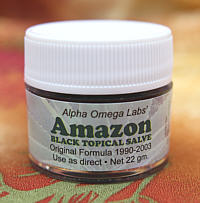 Amazon Black
Topical Salve
---
The Original Formula: 1990-2003
---
Code 800R (22 g.) -- Price: $34.95
Main Cansema Page

From 1990 to 2003, the original Cansema formula consisted of just four ingredients: purified water, zinc chloride (ZnCl2), chaparral (Larrea sp.), bloodroot (Sanguinaria canadensis). Because thousands of customers purchased and used this formula during that time, we are introducing it. However, whereas we used the Cansema® label for this formula during that time, we are now reintroducing it under the "Amazon Black Topical Salve" label.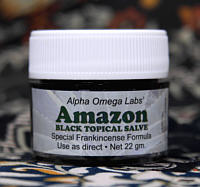 Amazon Black
Topical Salve
---
Special Frankincense Formula
---
Code 800F (22 g.) -- Price: $34.95
Main Cansema Page

This variation of Amazon Black Topical Salve is the same as the current Amazon Black Salve (current original), except that it contains 10% frankincense oil (Boswellia carterii) to reduce inflammation.


Ingredients: Zinc chloride (ZnCl2), chapparal (Larrea mexicata leaf [contains active principle: NDGA (nordihydrogauaretic acid, 17% by weight)]), graviola leaf extract (distilled water, Annona muricata), oleander leaf extract (distilled water, Nerium oleander), bloodroot (sanguinaria root powder: Sanguinaria canadensis), frankincense oil (Boswellia carterii) and glycerine (used as a humectant, to keep the product moist).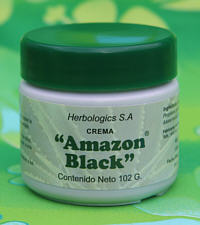 "Amazon Black"
Anti-Scarring
Cream


Code 800AB (102 g.)
Price: $12.95


"Amazon Black" is an anti-scarring cream that we sell here in Ecuador, and are now making it available internationally. Despite the name, the formula is not an escharotic, so it should not be confused with our other "Amazon" formulas.


Ingredients: Purified water, glycerine, glyceryl stearate, propylene glycol, capric triglyceride, anona muricata fruit extract, Ceteareth-20, zinc chloride (0.1%).



To U.S. Users: Neither this product, nor the statements made herein, have been evaluated by the U.S. Food & Drug Administration. Therefore, this product is not intended to diagnose, treat, cure, or prevent any disease.

Our Primary
Amazon Black
Topical Salve
Formulas

The two Amazon Black Topical Salve formulas on the left are "specialty" variations. The details of our "regular" versions are provided below.

That some users -- and perhaps even practitioners -- may be confused by the choices, is understandable. Below we provide here a quick summation, in brief, of our other versions, their functions and differences, and links to more detailed product pages:

( 1 ) Cansema® Black Topical Salve (Original) --
This is the original Cansema® formula -- with trademarks prior to 1995 including HerbVeil 8 and Formula G, for which minor modifications were made in 2008. For the vast majority of skin cancers, particularly of smaller size (less than one square centimeter), this is the product to use.

( 2 ) Cansema® Salve Deep Tissue --
Growths that are not on the surface of the skin or are deeper -- or whose entirety is below the epidermis, should be treated with this compound.

( 3 ) Cansema® With Iodine --
The variation provides a deeper action than the original version with the added anti-microbial action of iodine, but not as deep as "Deep Tissue." It should be used where the ambient environment of the eschar may be subjected to a higher-than-usual presence of pathogenic microbes. A good example would be an eschar on a waste disposal worker at a community hospital.

( 4 ) Cansema® Salve for Cats, Dogs & Horses --
This is a variation for veterinary use. It is a variation of "Deep Tissue."

( 5 ) Cansema® Salve with Nuwais --
This variation (also introduced Sept. 2009) is designed for use with oral cancers.

( 6 ) Cansema® Salve with Aloe Vera Gel --
And, finally, this variation -- best suited for larger growths, instances where pain management is an issue, or where the user wishes to otherwise extend the timeline of the process.

A complete list of ingredients, along with more detailed information, can be found in the answer to Question #200 in the
Cansema FAQ
section.