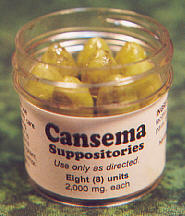 Code 1350 -- Price: $49.95
Net Wt.: 16 g. (2,000 mg. x 8)
Main Cansema Page
AO Natural Suppositories

To Users in the U.S.: .. None of our suppositories, nor any of the information provided herein, have been evaluated by the U.S. Food & Drug Administration. These products are not intended to diagnose, treat, cure, or prevent any disease.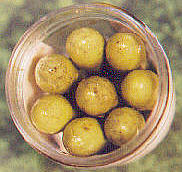 his product is the suppository version of Cansema Black Topical Salve. As we state on our introductory page to AO Natural Suppositories, the idea for this product came from a medical doctor in Chicago (USA), who has used a diluted version of the salve to treat colorectal cancers in friends, family, and colleagues -- an application, he indicates, that works quite successfully. (His technique actually involves the use of a bladder catheter, which is used to deposit the Cansema formula high into the descending colon, near the splenic flexure. Note that this is not a protocol developed by Alpha Omega Labs; we do not promote its use; and we make mention of this for informational purposes only).


Though clinicians have reported back to us on successful uses of Cansema Salve and both Cansema Tonics (original, and Tonic III), for several years now in both rectal and vaginal applications, we have not promoted these methodologies. In fact, we have made it clear since first making Cansema Salve that the product should not (unless under the advice of a qualified health care practitioner) be applied to mucous membrane.


Although posing no toxicological challenges when used as directed herein, Cansema Suppository usage poses pain response considerations that deserve special attention when applied within "circulatory range" of cancer growth accessible by the suppository's substrate material. For this reason, we do not recommend the use of this product without the care and oversight of a qualified health care practitioner. In most countries, this will be a medical doctor (M.D.) or osteopath (D.O.). In the presence of substantial cancer growth, this product, like the topical salve that inspired it, can produce a substantial pain response. The use of narcotics class analgesics will, in many cases, be required.

Español, Português, Deutsch
Italiano, Français, Norsk
Directions


For rectal or vaginal use only - as advised by your health care practitioner. Use following colonic evacuation. Freeze prior to use. Keep out of chilren's reach. Do not use if pregnant, nursing, suffering from hemorrhoids, or prior to surgery.


Before removing suppository from container, be sure to wash hands thoroughly with anti-microbial soap. Lightly coat the suppository in olive oil before inserting past the sphincter muscle. The best time to use this product is just prior to bedtime; otherwise, remain sitting and reclining after insertion for about 30 minutes, or until the suppository has entirely dissolved. Users with poor colonic mucosal integrity may experience a mild stinging. If this occurs, notify your health care provider.


Ingredients

Cocoa butter, lecithin, zinc chloride, chapparal, graviola, and glycerine.