The prostate can be maintained for optimal health
and prostate conditions even remediated if you know
what herbal combinations improve prostate function.
Effectively Addressing Prostate Problems

(Indigenous traditions understood the importance of maintaining
critical organs and systems of the body: liver, gallbladder, colon,
lungs, blood . . . and in the case of men, yes, the prostate.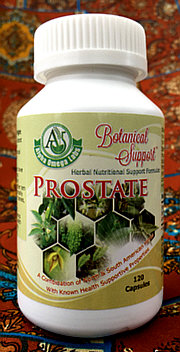 As herbalists and naturopaths, dealing with prostate issues has been a regular part of our work over the nearly 30 year life of Alpha Omega Labs -- primarily in working with cases of
BPH
(benign prostatic hyperphasia)
and
prostate cancer
. For some time now, we've had a
prostate protocol page
for dealing with the latter. We've even created specially priced "bundles" --- one
with Flor de Mashua
and
the second without
.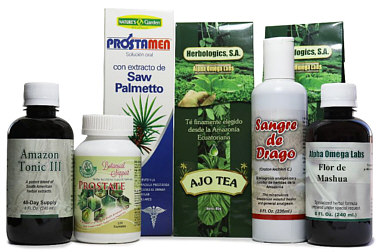 As in the case with most conditions, it is easier and cheaper to maintain good organ functions than it is to deal with diseased conditions in those same organs. With the use of our prostate-supportive products and access to the
free consultations
of our practitioners, you have access to the best products available from the naturopathic community to assure good prostate function. Items included in our prostate bundles are as follows:

These and other amazing formulas with long histories of effective use can found on
our online stores
, or you can write to us at
support@herbhealers.com
for more information, or call us:
(305) 851-2308.
Discount Codes thru October 31, 2019
Use the following Discount Code on the checkout page of
either of our web stores
to get the indicated discount on your product purchase.
Only one discount code per tranaction.
10OCT2019 = 10% off
any purchase over $100
SALVEBOOK9_2019 = Free digital copy of BLACK SALVE
on any purchase over $75
FLOR1019
= 20% off Flor de Mashua (8 fl. oz.)
Questions?
: Write to us at
support@herbhealers.com

Blessings . . .


Questions and comments can be addressed to me personally at:

greg@gregcaton.com --
(for personal questions or book queries)
support@herbhealers.com --
(to talk to our doctors concerning products or case particulars)