The Ashwin
is a monthly webzine for
ΑΩ Labs'
customers --
May, 2002 Edition
Formatted to 600 pixel width for ease of reading and hardcopy reproduction from the browser.
Related Links:

Ashwin Archives

Letters to the Editor - (Submissions)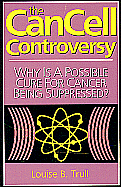 he goal of the alternative health care field should be the relentless pursuit of different formulas, protocols, techniques and modalities that produce real health care solutions for customers. Our goal should be 100% -- and even if we never reach perfection, that should be the aim.


It is in that spirit that Alpha Omega Labs reached an agreement with Renewal & Wellness, makers of Protocel products, to cross market our respective core products. (Protocel utilizes the very same technology as its predecessor, CanCell.


Both Alpha Omega and R&W have their own respective, impressive track records. As we explain on our new Protocel introductory page, principals with both companies first met to share their respective success stories and decided there would be a substantial benefit in both companies sharing their clinical data and cross marketing each other's products.


This month we ask AO customers and our clinicians to read through the materials on the Protocel page - and pay particularly close attention to those specific areas in which previous users have found particularly benefit.


Note to our Readers: This is the eighth edition of the The Ashwin (pronounced "Ah-sh' win"), covering May, 2002. Previous editions are archived. If you have questions, email us.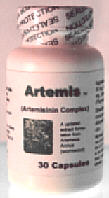 Artemis Released!

Millions of TV viewers in North America watched last December when MSNBC announced "a promising new approach for treating cancer" that involves a "plant compound" that "kills cancer cells." (See "Chinese folk remedy fights cancer"). Since the compound(s) in question are most effective in attacking breast cancer cells, the hopes of millions of women soared.




Those who understand how the Medical Industrial Complex works hardly look forward to the official pronouncement on the cancer-killing power of artemisinin, artemether, or the other extracts of wormwood on which this research rests -- something that may or may not happen by the turn of the 22nd Century.


For this reason, we decided to seek out Chinese sources of the pure extracts (Wormwood extracts are an orthodox treatment for malaria, hemorrhoids, and now, yes, cancer, on mainland China), and create our own pharmaceutical-grade product - based on the expertise of the Chinese TCM practitioners who know the formulas best.


The result of this effort is Artemis - now available from the Alpha Omega Labs web store. Read the introductory article thoroughly before ordering.


---
Late Entries
For May

Later this month, we will be adding two new products to assist those looking for a strong "liver cleanse / colon cleanse" combination -- "HepatoMix" and "Colon Clear" respectively. We will provide an update to this page (the May, 2002 Ashwin), so be on the lookout.


Also, in late May, we are providing two new versions of Cansema Salve, called "Cansema Salve - Deep Tissue" with DMSO (USP grade) for those requiring a formulation with enhanced transdermal properties. At the request of veterinarians, we are creating a separate "Cansema Salve for Horses" with unique properties that meet their special needs.


We hope to have this information posted by May 20th.





Home Page | Order



---
© 2001-2002 Alpha Omega Labs • Nassau, Bahamas • All rights reserved. This page posted : 05/06/2002.
---