The Ashwin
is a monthly webzine for
ΑΩ Labs'
customers --
November, 2002 Edition
Formatted to 600 pixel width for ease of reading and hardcopy reproduction from the browser.
Related Links:

Ashwin Archives

Letters to the Editor - (Submissions)


This month we're introducing the first of what will become an expanded line in our nutraceutical "designer food" section.


We decided to go with Daibutsu first, because it addresses several nutritional issues that are now at the forefront of the news: (1) the value of isoflavones, particularly genistein - found only in soy, which exist both anti-cancer and anti-ischemic chemopreventive properties; (2) the ubiquitous presence of the carcinogenic compound, acrylamide, in our foods - and we present both sides of the debate; and (3) the importance of healthy fats - including essential omega-3 and -6, as a substitute for hydrogenated and other forms of unhealthy saturated fats that form the dietary fat backbone of many processed foods, particularly snacks.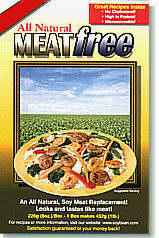 In addition, we are, after having reformulated the product, reintroducing Meatfree, a soy product sold in Canada - which has a similar nutritional profile to Daibutsu, but prefer a soy-meat that is suitable for cooking, not just snacking.


Note to our Readers: This is 2nd edition of the 2nd year of our Ashwin (pronounced "Ah-sh' win"), covering November, 2002. Previous editions are archived. If you have questions, email us.

Highlight on Medicinal
Suppositories

Last March
AO Labs introduced
Medicardium
, a powerful chelation product in suppository form - useful in eliminating toxic metals from the body, in addition to arterial plaque. To highlight our work in this area, we are discounting
Medicardium
to $59.95 through December 31, 2002. (Order from our
Ecart store
, under "Healthy Heart Products" section - Code 130).

Alpha Omega Labs is currently involved in two research projects, partnering with a U.S. product development firm specializing in medicinal suppositories to create two AO Labs' products.

Cansema Suppositories
will allow for a more stable ingestion of the active components in
Cansema Salve
. In our foreign markets outside North America, it will be sold as our primary solution for colorectal cancers.

Vag Guard
(a proposed pre-coital vaginal suppository) is an extension of our in-house work with NDGA and
neem oil
components, and is designed to function as a prophylactic, both contraceptive and anti-STD -- both bacterial and viral.
Home Page | Order
---
© 2001-2002 Alpha Omega Labs • Nassau, Bahamas • All rights reserved. This page posted : 11/16/2002.
---