in Chile in the southern latitude of 33º to 40º. Its leaves are used throughout South America as an herbal tea, and its fruit is edible. It's most active medicinal agent is "boldine."
Uses & Protocols

Its most common use in herbal medicine is to treat dyspepsia, gallstones, and gallbladder inflammation, but it is also used for its
choleretic
and
cholagogue
properties. Recommended dosage: one to two capsules, twice daily.
Warnings & Contraindications

Boldo should not be used when there is a serious liver condition, or obstruction of the bile duct. We do not recommend for long term consumption, as hallucinations at higher dosages over longer periods have been reported (PH2). Moreover, there is one report of "hallucinations" in one 12-year old subject (see second PubMed study, cited in the right column), such that we do not recommend using Boldo for those under the age of 14.

Do not take if you are pregnant, attempting to conceive, or lactating. Because Boldo has mild blood-thinning properties, it is contraindicated for those taking blood-thinning medication. Taylor notes that Boldo "may decrease the effect or reduce the half-life of certain drugs that should be metabolized in the liver," so write to us if you have any questions about drug contraindications.
Shelf-Life

Five years or more.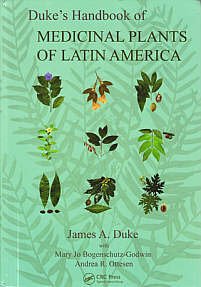 Medicinal Activities

Further information for practitioners:
World-famous botanist Dr. James Duke attributes the following activities to this plant
(p. 519-521; see hardcopy cover at right, purchasable on Amazon),
drawn from the extant literature. (See his graduation for "level of efficacy" on our
amazon traditionals page
; followed by Duke's bibliographic abbreviations (in capital letters), which we
identify on a separate page
.)

Duke provides a "
food farmacy potential
" score for this plant of "FNFF=!."
Abortifacient (1;RAI)
Analgesic (f; BGB; CRC; RAI)
Anesthetic (f; VAD)
Anthelmintic (1; BGB; EFS; GAZ)
Antiaggregant (f1; RAI; X11310527)
Anticholinergic (1; BRU)
Antidiabetic (1; X10987997)
Antihemolytic (1; X10925398)
Antihistaminic (1; FNF; X12747739)
Antiinflammatory (1; APA; MPG; RAI)
Antimutagenic (1; X11265593)
Antioxidant (1; APA; BGB; RAI; X12747739)
Antiperoxidant (1; X12747739)
Antiprostaglandin (1; BGB)
Antiradicular (1; X12747739)
Antirheumatic (f; EFS)
Antiseptic (f1; CAN; CRC; EFS)
Antipasmodic (12; APA; BRU; KOM; PH2; RAI; SHT)
Antiulcer (1; FNF; X12747739)
Aperitive (1; VAD)
Bactericide (1; MPG)
Calcium-Channel Blocker (1; X12044805)
Candidicide (1; MPG)
Carcinogenic (1; CRC)
Cardiodepressant (1; RAI)
Carminative (f1; BGB; RAI)
Cholagogue (2; APA; CAN; SHT)
Cholekinetic (2; SHT)
Choleretic (f12; CRC; HHB; KOM; PH2; RAI; SHT)
Coloprotective (1; RAI)
Convulsant (1; VAD)
Decongestant (f; RAI)
Demulcent (f; CAN)
Depurative (f; RAI)
Detoxicant (f1; RAI; X11265593)
Digestive (f1; RAI; VAD; X12747739)
Diuretic (1; APA; BGB; CAN; RAI)
Emetic (1; HHB)
Febrifuge (1; RAI)
Fungicide (1; MPG; VAD)
Gastrostimulant (1; APA; KOM; PH2)
Glutathiogenic (1; X11265593)
Hepatoprotective (1; APA; BGB; BIS; RAI)
Hepatotonic (f12; CAN; EFS; PNC)
Hepatotoxic (1; X15764158)
Hypnotic (f1; BIS; CRC; HHB; VAD)
Hypouricemic (1; RAI)
Laxative (f1; APA; HHB; RAI; VAD)
Myorelaxant (1; APA; BGB; BRU; RAI)
Narcotic (f1; EFS; VAD)
Nervine (f; BGB)
Neurotoxic (1; GAZ)
NO-Inhibitor (1; X10987997)
Orexigenic (2; PHR)
Paralytic (1; RAI)
Parasiticide (f1; RAI)
Poison (f; CRC)
Secretagogue (1; BRU; KOM)
Sedative (f1; APA; CAN; EFS; HHB; VAD)
Sialagogue (f; RAI)
Stimulant (f; CRC; RAI)
Stomachic (f1; CAN; HHB)
Tonic (f; CRC; EFS; RAI)
Uricosuric (1; BIS)
Urinary Antiseptic (1; BOW; CAN; RAI)
Uterorelaxant (1; RAI)
Vasoconstrictor (1; X12044805)
Vasorelaxant (1; RAI)
Vermifuge (f1; CRC; HHB; RAI)
Xantine-Oxidase-Inhibitor (1; MPG)
Indications

Further information for practitioners:
Duke provides the following indications for this plant:
Aging (1; APA)
Anorexia (f12; PHR; RAI)
Arthrosis (f; EFS)
Atherosclerosis (1; APA)
Autoinmune Disease (1; APA)
Bacteria (1; MPG)
Biliousness (2; APA; CAN; SHT)
Cancer (1; APA)
Candida (1; MPG)
Cardiopathy (f; RAI)
Colechocystosis (f; BGB; HHB; RAI)
Cholecystalgia (f; CAN)
Cholelithiasis (1; CAN; HHB; VAD)
Colds (f; CRC; RAI)
Colitis (1; RAI)
Constipation (f1; RAI; VAD)
Coughs (f; CRC; RAI)
Cramps (f12; APA; BRU; KOM; RAI; SHT)
Cystosis (f1; BGB; CAN; PNC; RAI; VAD)
Debility (f; RAI)
Diabetes (1; X10987997)
Diarrhea (f; RAI)
Dislocations (f; MPG)
Dropsy (f; MPG)
Dyskenesia (1; VAD)
Dyspepsia (f12; APA; BGB; BRU; KOM; PH2; RAI)
Dyspnea (f; RAI)
Earache (f; CRC; MPG; RAI)
Edema (f; RAI)
Enterosis (f12; APA; BOW; KOM; RAI)
Escherichia (1; MPG)
Fever (1; RAI)
Fungus (1; MPG)
Gallstones (1; BOW; CAN; HHB; PNC; RAI)
Gas (f1; BGB; RAI)
Gastrosis (f12; CRC; KOM; RAI)
Gonorrhea (1; CAN; GMH; HHB; RAI)
Gout (f1; APA; BGB; CRC; MPG; RAI)
Head Colds (f; CRC; RAI)
Heartburn (f; BGB; BRU)
Hepatalgia (f; CAN)
Hepatosis (f12; APA; CRC; HHB; PHR; RAI; X12747739)
High Cholesterol (f; RAI)
Hyperglycemia (1; X10987997)
Hypertonia (2; KOM)
Hypothyroidism (f; RAI)
Inappetence (2; PHR)
Infection (1; CAN; CRC; EFS)
Inflammation (1; APA)
Insomnia (f; APA; CAN; EFS; RAI)
Kidney Stones (f; RAI)
Jaundice (f; CRC; GMH; RAI)
Lethargy (f; EFS)
Malaria (1; FNF; RAI)
Migraine (f; VAD)
Mycosis (1; MPG)
Nephrosis (f; BGB)
Neuralgia (f; MPG)
Obesity (f; BOW; PNC)
Oliguria (f1; RAI)
Pain (f; BGB; RAI)
Parasites (1; BOW)
Prostasis (f; BGB)
Pseudomonas (1; MPG)
Rheumatism (f; APA; BGB; CAN; EFS; MPG; RAI)
Stomachache (f1; APA; RAI)
Stones (1; BRU; VAD)
Syphilis (f; CRC; HHB; RAI)
Urethrosis (f; RAI)
Urogenitosis (f; GMH; RAI)
UTIs (1; BOW)
VD (f; CRC; HHB; RAI)
Vertigo (f; RAI)
Water Retention (1; APA; BGB; CAN)
Worms (f1; APA; CRC; EFS)
Wounds (f; CRC)
Yeast (1; MPG)