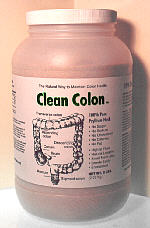 ---
100% Pure Psyllium Husk
---

syllium husk, also known "isabgol" in India, has been used as a laxative for centuries. In ayurvedic medicine, its uses include constipation, irritable bowel syndrome, diabetes (as an adjunct), and chronic colitis.


Worldwide, psyllium is sold in a dizzying array of brands, including Metamucil ®, Endulax ®, and Colon Cleanse ®. Many laxative products have an assortment of additives inserted, but the majority of these are to make the product taste sweet, or otherwise improve flavor.


Although all of these uses are sound and legitimate, our focus has been on the ability of psyllium to absorb and hold excess discharge from the intestinal pathways of the body. The experience of increased "bulk" in the stool due to psyllium use is a common one, but many people can benefit from the use of psyllium who are not constipated.


For over a century, various physicians have spoken about the need to reduce or eliminate from the diet what are called "mucus-forming foods" (i.e. meat, milk, eggs, refined flours and related baked goods, sugar, salt, etc.), and instead focus on consuming "wholesome, non-mucus-forming foods" (i.e. whole, live, raw foods ... fruits, vegetables, whole grains, nuts, seeds... and fresh fish or chemical free chicken in small amounts, etc.).


Since few people are likely to head this advice (which, incidentally, may be a big contributing factor explaining why so many vegetarians have lower cancer and heart disease rates), so psyllium has the added value of absorbing excess mucus as it passes through the intestinal tract.



Our version, Clean Colon is nothing more than pure, 100% psyllium husk, with no additives. If you can find a cheaper brand of pure psyllium where you live, that's find, too. It will accomplish the same thing.


We feel that most of the psyllium products that come encapsulated are a waste of money: a "serving size" should be at least one full Tablespoon. (We have staffers at Alpha Omega who make smoothies with psyllium and add two to three tablespoons!) The bulk of the psyllium should be formed in the stomach -- hard to do if you are swallowing it in capsule form.)


The easiest way to use psyllium is to drop one to two tablespoons in a half-full blender of purified water (optional: honey or molasses to taste), set on high for 10 seconds, and then drink. Don't let the blend sit too long because psyllium will soon become gelatinous and then set.


A variety of advisories indicate that it is best to take before bedtime, but for someone with relative good health, we have found that it doesn't matter what time of the day you take it.



There are few supplement products that we feel are as essential for good health and call for regular use as psyllium. Two of our staffers have been taking it religiously for over 20 years. You should be aware that the "occasional" caveat is added by most manufacturers to acknowledge the fact that "laxatives" can be addictive. But labelling psyllium as a "laxative" (and it is so only because its bulk-forming properties provide this incidental benefit) is an oversight --- it fails to bring to attention its other qualities.


Given its tremendous health benefits, economical use, and the fact that it has be used with a fair degree of frequency without any contraindications, we provide it at a competitive price (5 lbs. for $19.95) in a sturdy large poly container.



To Users in the U.S.:. Neither the information on this page, nor this product, have been evaluated by the U.S. Food & Drug Administration. Therefore, this product is not intended to diagnose, treat, cure or prevent any disease.




Home

Order
Label Information

Indication: For relief from occasional constipation. For most users, this product will produce bowel movements in 12 to 72 hours. Better results are obtained in using this product in conjunction with Alpha Omega's "Omega LB" lower bowel cleaning program.

Directions: Adults take one to two heaping tablespoons (7 to 14 grams) up to 3 times daily with at least 8 ounces of water, juice or other favorite beverage. Children (6 yrs.-12 yrs); up to 0.5 heaping tablespoons (1.5 teaspoons) up to 3 times daily with at least 8 ounces of water, juice or other favorite beverage. Using this product without sufficient liquid may cause symptoms of heartburn, digestive blockage - even choking. See WARNINGS below for more particulars.

WARNINGS: Do not take if you have problems swallowing. If you experience vomiting, chest pain, difficulty in swallowing or breathing after taking this product, seek immediate medical attention. If you experience any sudden changes in bowel habits lasting more than one week, consult a physician before using this or any other laxative. If you have no effect in using this product after seven days, consult a physician. If nausea, abdominal pain, or vomiting are present, do not use. If failure to have a bowel movement or rectal bleeding occurs, discontinue use and consult a physician. Frequent or prolonged use of any laxative may result in dependency. In case of accidental overdose, seek professional help. Store in a cool (under 86 degrees F), dry place. Keep out of reach of children.