The Ashwin
is a monthly webzine for
ΑΩ Labs'
customers --
June, 2002 Edition
Formatted to 600 pixel width for ease of reading and hardcopy reproduction from the browser.
Related Links:

Ashwin Archives

Letters to the Editor - (Submissions)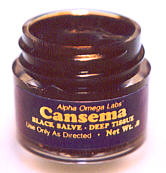 his month we introduce a revised formulation of Cansema Black Topical Salve, called Cansema Salve - Deep Tissue.


We have been formulating "enhanced transdermal variations" of Cansema for specific human and veterinary applications, at the request of both vets and their animal owners, for several years now. (What we call "customized, off-catalog formulations.") We got serious about development about two years ago. There are no toxicological or safety issues to contend with on account of these modifications -- the primary active transdermal in this formula is pharmaceutical-grade DMSO (Dimethyl Sulfoxide), which is used in the formula at 15% concentration. This compound is regularly used by compound pharmacists to inhance drug delivery through the skin. So this DMSO application (and there are many other therapeutic uses for DMSO) is not new.


Study product page for specifics.



In addition to the introduction of Cansema Salve Deep Tissue, this month we introduce a veterinary version of Cansema -- which takes into account the constructive criticisms of the original Cansema Salve in veterinary applications over the last ten years.


In addition, read the latest veterinary testimonials.


Letter to the Editor

I'm forty-four. Since age nineteen I've been researching alternatives to mainstream medicine. I've also, in that time, been learning the ways and means of mainstream medicine. As you know, it's a dirty business based on power and profits. I found your website a couple of months ago and what you're doing, with what appear to be wonderful products, is right on target. I've had HIV for fifteen years and I've never used medication.


I don't trust the AIDS research. I'm not convinced that HIV signifigantly contributes to AIDS. I've studied the AIDS medicine money machine and it's the dirtiest in history: much worse than cancer -- if you can imagine that.


I believe mycoplasmas have a role in AIDS but I very much doubt it stops there. I hope the researchers behind your products will develop herbal medicines for the AIDS community.


Except for one small KS lesion on my arm I've been asymptomatic for my entire HIV time. I'm treating the KS with my own concoctions internally and through injection. I'm just as annoyed with doctors and the pharmaceutical industry as Anastasia. I've never honored their opinions due to my early readings on the subject of medicine. Many "holistic/naturpathic" type doctors are worthless as well. They have tunnel vision for anything but their egomaniacal protocols. I prefer to have matters in my own hands. If there are going to be mistakes made I want them to be my mistakes and not some distanced medical professional with his cookie cutter approach.


Thank you for everything you're doing.



Roger (rdt58@yahoo.com)

Note to our Readers: This is the ninth edition of the The Ashwin (pronounced "Ah-sh' win"), covering June, 2002. Previous editions are archived. If you have questions, email us.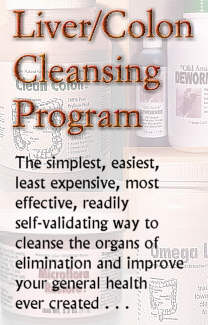 nce again, Alpha Omega Labs' has combined its own products and research with information in the public domain to create an inexpensive, easy-to-follow way to self-administrate your way to optimal health -- this time, in the area of liver / colon cleansing.


Read the in-depth products page -- where you can take advantage of a complete bundling of the key products for just $72.00 USD.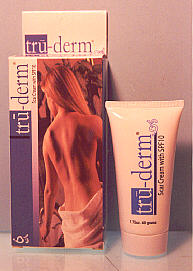 "A scar removal cream that really works ... " is how one testimonial letter reads on the newest addition to the Alpha Omega lineup. Tru-Derm is the latest development in making the miracle of silicone sheeting for scar removal available to the public, over-the-counter.


Based on the many positive reports we have received from the field, we are now recommending this inexpensive product (applied AFTER Cansema Salve users finish the heal over phase) for those who have left over scar tissue after removing their skin cancers.




Home Page | Order



---
© 2001-2002 Alpha Omega Labs • Nassau, Bahamas • All rights reserved. This page posted : 06/02/2002. Updated: 6/16/2002.
---