ne of the frequent outcomes involving the use of Cansema Black Topical Salve or even our Bloodroot Paste is the creation of scar tissue. Most of the scar tissue generated from either of these products goes away over time -- but some scar tissue can linger for many years.


Tru-Derm is an amazing new product that comes the States and helps to "manage" (a word chosen by the manufacturer) and in many cases completely eliminate the scar tissue.




Tru-Derm utilizes a dermatological technique known as "pure silicone sheeting," which is clinically proven in the management of hypertrophic and keloid scars. In fact, tru-derm may also prevent problem scarring.


Tru-Derm is greaseless, convenient, easy to use, and costs only pennies a day. It provides a very affordable, effective alternative to to other procedures, like dermabrasion or steroid injections, which can be expensive, painful and less convenient to use on your body. While skin is healing, tru-derm protects the scar from the sun's damaging rays. It repels water and allows cosmetics to be applied on top of the area.



WARNING: --- (on label) --- "Only for external use. This product should not be applied to open or weeping wounds. It should not be applied to 3rd degree burns. Keep out of reach of children."


ACTIVE INGREDIENTS: Dimethicone 4% Skin Protectant, Octyl Methoxycinnamate 7.5% sunscreen, Octyl Salicylate 5.0% sunscreen. Other Ingredients: Water, Mineral Oil, Cyclomethicone, Cetyl Alcohol, PEG-40 Stearate, Stearic Acid, Stearyl Alcohol, Carbomer, Triethanolamine, Trisodium EDTA, Sodium Benzoate, Potassium Sorbate, Methylparaben, Propylaparaben, Imidazolidinyl Urea.


This product has been extensively tested and found to be very effective. Read a few of the testimonial letters that have been submitted...


For both new and old scars.
Easy to apply.
Fast drying, greaseless, unscented, invisible.
Will soften, smooth, and flatten your scar and dramatically improve the appearance of your skin.
Will protect your scar from the sun's damaging rays.
Can be worn under make-up.
Will make your skin feel smooth and natural.
Ideal on all types of scars such as Keloid, Hypertrophic, acne, superficial scars, healed over lacerations, insect bits and minor burns.
People who have used True-Derm Scar Cream with SPF 10 have reported immediate relief from the itching and tingling associated with most scars.
Available on this site without a prescription.
Tru-Derm Scar Cream should only be used after the wound heals completely.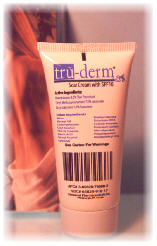 Image of back of product (which comes in a tube). Click to enlarge image.