Mulungu (E. mulungu or E. verna) is a medium-sized, ornamental tree
. It grows to a height of 10 to 15 meters and is noted for its attractive flowers that vary from red to orange. Unlike many of the herbals we work with, Mulungu is, at this time, fairly unknown outside of South America -- surprisingly because of its long-standing medicinal uses here. The traditionally utililed medicinal parts include the bark and root.
Uses & Protocols

Mulungu has long been in use among Brazilian herbalists as a remedy for insomnia, depression, epilepsy, and high blood pressure, for use as a sedative, and to calm an overexcited nervous system. Research has been done to confirm that Mulungu has an effect similar to the commonly-prescribed, anti-anxiety drug, Diazepam. Due ti its antimicrobial action is also used to treat throat and urinary infections. (Studies have shown it to be effective against
Staphylococcus aureus
,
Mycobacterium fortuitum
and
Mycobacterium smegmatis
.) It is also used extensively to treat asthma, bronchitis, liver conditions (including hepatitis and obstructions in the liver), hernias, and stomach aches. Dosage: one capsule, two times a day.
Warnings & Contraindications

This herbal can cause drowsiness, so it shouldn't be used when it's important to be alert. It can potentiate anti-stress and antihypertensive drugs. Those on blood lowering medication should use Mulungu with caution, monitoring their blood pressure accordingly.
Shelf-Life

Five years or more.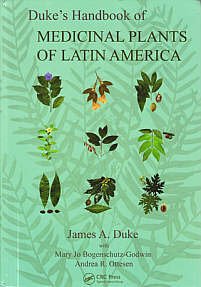 Medicinal Activities

Further information for practitioners:
World-famous botanist Dr. James Duke attributes the following activities to this plant
(p. 305-307; see hardcopy cover at right),
drawn from the extant literature. (See his graduation for "level of efficacy" on our
amazon traditionals page
; followed by Duke's bibliographic abbreviations (in capital letters), which we
identify on a separate page
.)

Duke provides a "
food farmacy potential
" score for this plant of "FNFF=?."
Analgesic (1; RAI)
Antiarrhythmic (f; RAI)
Antidepressant (1; RAI)
Antiedemic (f; RAI)
Antiinflammatory (f; RAI)
Antinicotinic (1; RAI)
Antiseptic (f1; RAI)
Antispasmodic (f; MPB)
Antitussive (f; MPB)
Bactericide (1; RAI)
Carminative (f; MPB)
CNS-Depressant (1; RAI)
Curare (1; RAI)
Diuretic (f; RAI)
Hepatoprotective (f; RAI)
Hypotensive (1; RAI)
Lactagogue (f; RAI)
Narcotic (f; MPB)
Nervine (f; RAI)
Sedative (f1; RAI)
Tranquilizer (1; RAI)
Indications

Further information for practitioners:
Duke provides the following indications for this plant:
Agitation (f; RAI)
Anxiety (1; RAI)
Arrhythmia (f;RAI)
Asthma (f; RAI)
Bacteria (1; RAI)
Bronchosis (f; RAI)
Cancer, stomach (f; RAI)
Cardiopathy (f; RAI)
Convulsions (f; RAI)
Coughs (f; MPB)
Cystosis (f; RAI)
Depression (f1; RAI)
Diarrhea (f; MPB)
Dyslactea (f; RAI)
Dysuria (f; MPB)
Edema (f; RAI)
Epilepsy (f; RAI)
Fever (f; RAI)
Gas (f; MPB)
Gatrosis (f; RAI)
Gingivosis (f; RAI)
Headache (f; RAI)
Hemorrhoids (f; MPB)
Hepatosis (f; MPB)
Hernia (f; RAI)
High Blood Pressure (1; RAI)
Hysteria (f; RAI)
Infection (f1; RAI)
Inflammation (f; RAI)
Insomnia (f1; RAI)
Malaria (f; RAI)
Menopause (f; RAI)
Myalgia (f; RAI)
Mycobacterium (1; RAI)
Nervousness (f; RAI)
Neuralgia (f; RAI)
Oliguria (f; RAI)
Ophthalmia (f; RAI)
Pain (f1; RAI)
Palpitations (f; RAI)
Spasms (f; MPB; RAI)
Splenosis (f; RAI)
Staphylococcus (1; RAI)
Stomachache (f; RAI)
Stress (f1; RAI)
UTIs (f; RAI)
Wounds (f; RAI)