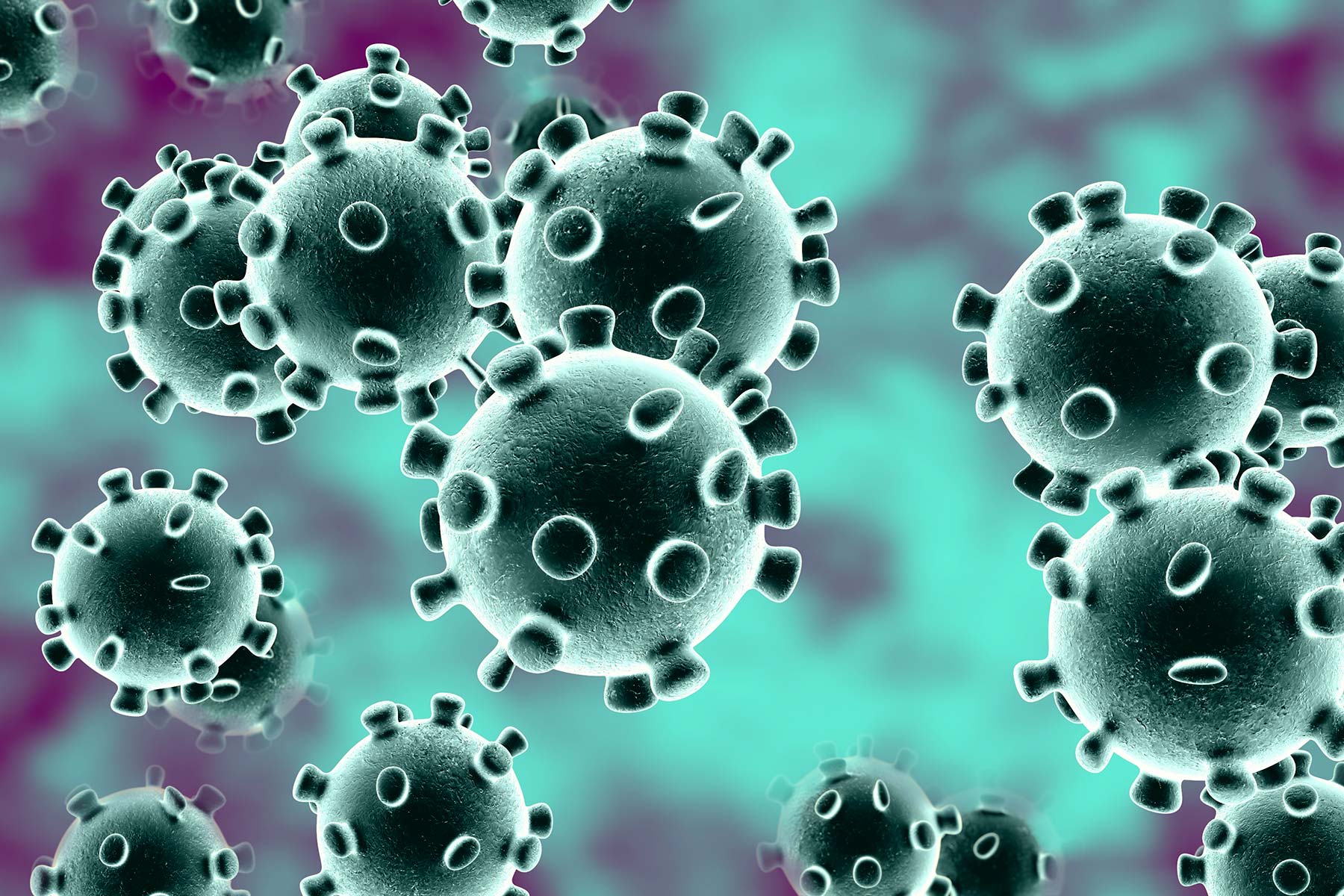 Coronavirus:
News & Developments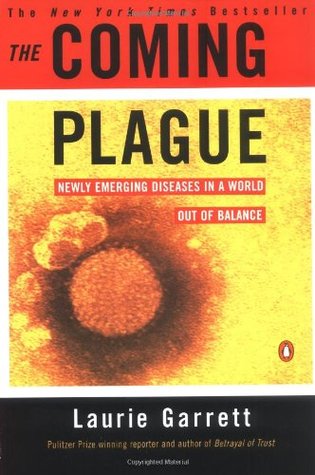 Sunday, Feb. 2 to March 1, 2020
-- For the past two months, we've been monitoring the Wuhan coronavirus situation from a distance. In 2005 I happen to finally get around to reading Laurie Garrett's
The Coming Plague
(1994), which does nothing if not give you a nasty sense that something like this was coming down the pike. What I wasn't aware of -- certainly not prepared for -- was the high degree to which the crisis would be engineered. (You owe it to yourself to see
a well-crafted video that Infowars has created that covers crucial facts
.)

The other reason I didn't comment earlier is because I needed time to sift through all the reports, many of which were either inconsistent, incongruent, or obviously penned by government propagandists. In the end, I decided to work through a network of Chinese associates who are on the ground in Wuhan and other affected areas of China. Before proceeding, I encourage you to read the previous post,
CoronoVirus: Truth vs. Medical Propaganda
.

Unlike other posts, this is one I will be updating periodically, as new information comes out of China and other affected areas. Remember, in times like this, you are more likely to get an accurate picture of what's going on if you are networking with friends and avoiding pre-scripted, pre-programmed nonsense from the mainstream media. It's all fake news now. There is nothing truthful coming out of the mainstream media.

More than ever before, you need to be careful who you trust. Your life -- and that of your family members -- may depend on it. Since no one I am communicating with want's their name aired in public, what you see below is an organized compilation of the best information I'm getting: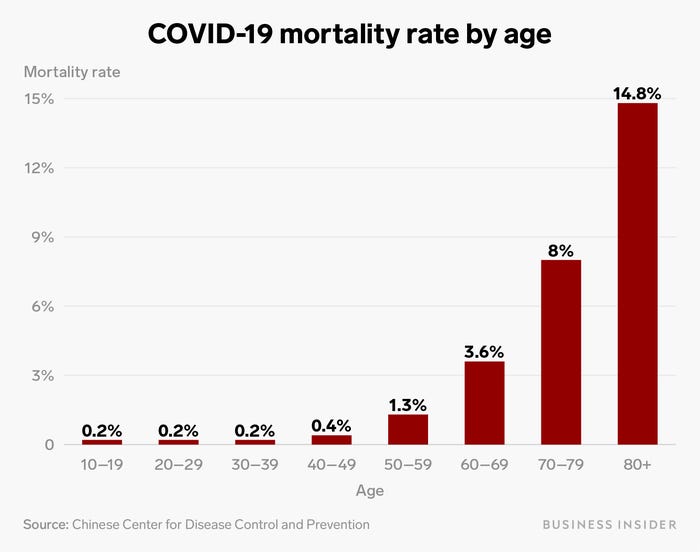 March 1, 2020
CoVid19 mortality rate by age -- (see chart above) -- What a brilliant way to thin the herd of social security recipients. (Cathryn and I are in the 60-69 category.) Ok -- never mind -- bad joke.
And now a word from our sponsor: -- Ok, maybe not. Check out this 5 minutes video which covers the lunacy of the official 911 narrative. Extremely entertaining. The parallels to coronavirus are obvious: governments may complaint about fake news, propaganda, and disinformation, but they are the greatest, most prolific, most shameless creators of it. And if you do a little digging, you find out that -- at least for people of reasonable intelligence -- they're not even very good at it.
Meanwhile At A Costco In Brooklyn, The Hoarding Begins -- Golly! Looks like Black Friday is coming 9 months early this year! Maybe they can reschedule Christmas for March 25.
"We're All Going To Get It": Life In Italy's Coronavirus 'Red Zone' Getting 'A Little Crazy' -- The dead bodies are piling up with no burial preparations. Shades of the Black Plague. Next comes a run on firewood, matches, and urns. You watch.
Silver Linings Playbook: 119 People Quarantined In A Brothel In Spain -- Whorehouse clients will soon need to supply P100 facemasks for their clients.
Illinois Reports Another "Presumptive" Case Of Coronavirus, Bringing US Total To 24; Washington Declares State Of Emergency After 1st US Death: Live Updates
The Trilateral Commission: Using Crisis As An Opportunity To Reform -- Never let a global crisis go to waste.
The Countries Best And Worst Prepared For An Epidemic -- Check out the world chart. Africa is, by far, the least prepared. We all know why it's happening, too! The world is run by a bunch of white, supremacist, nationalist, racist, misoygnist, trans-hating, liberal-hating, organic-food-hating, climate-change-denying, homophobic, xenophobic, narcissistic Nazis! (If you took that seriously, just don't bother to tell me. That there are people who believe that this is the cause of all the ills in our world is scary enough.)

February 29, 2020

February 28, 2020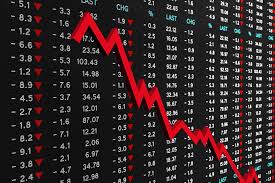 February 27, 2020

February 26, 2020

February 25, 2020

February 24, 2020

February 23, 2020
The Real Coronavirus Danger: China Controls Supply of Over 80% of Our Prescription Drugs

-- Boo-hoo . . . whose shoulder do I cry on? Any volunteers?
Worth contemplating: I just got a brief email from a friend with the following quote: "The 1996 neocon Bible, The Project for a New American Century (PNAC), unambiguously stated, "advanced forms of biological warfare that can 'target' specific genotypes may transform biological warfare from the realm of terror to a politically useful tool." Coincidence?
Total number of cases -- . . . and if this rate of progression continues?

The BEST NEWS re CORONA Virus you've heard all month! Kinda

. -- How much of the CoVid-19 is the result of a virus, and how much of it is the direct result of 5-G being implemented in China?

(It is sickening that this video blogger has to give listeners a glossary of "code words" in the beginning of her presentation, to extend the time that her YouTube will be allowed to stay up before they take it down.)

Pandemic Pandemonium Begins -- Reality is beginning to set in.

February 22, 2020

February 21, 2020

February 20, 2020

February 19, 2020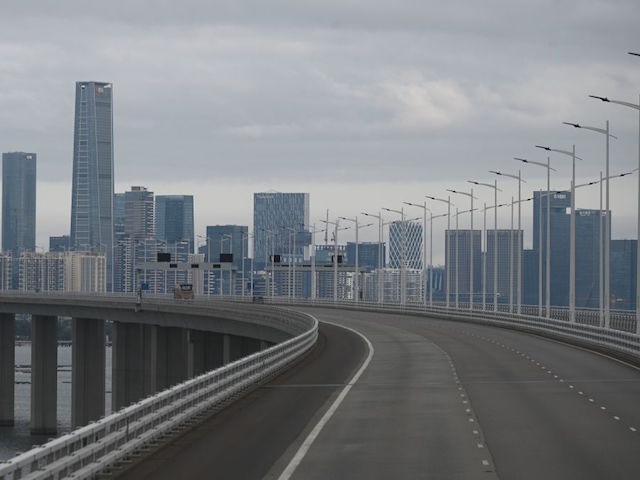 February 18, 2020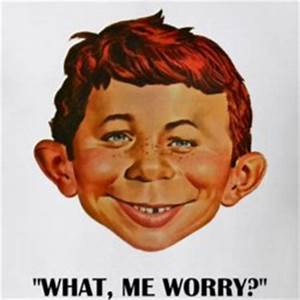 February 17, 2020

February 16, 2020

February 15, 2020
Comment on ZeroHedge: Ok . . . I admit that the coverage of this Coronavirus bug, now called COVID-19, from yesterday has been biased in favor of ZeroHedge. However, it is only because they're covering more sensitive topics that others won't cover. Additionally, many articles in the MSM (predictably) are so obviously fake that it would be a disservice to repeat it. So here's the important items for February 15:
Was the 2020 Wuhan Coronavirus an Engineered Biological Attack on China by America for Geopolitical Advantage? -- Yesterday I posted a blog entry entitled: Musings on Hopi Eschatology: Coronavirus as a WWIII Precursor. Unbeknown to me, UNZ review posted this article on January 27, where they suggest the very same thing. One important smoking gun:

"The calls for drastic and immediate action against China are all over the major American neocon publications. Just because you (personally) are not aware of them, does not mean that they do not exist. These neocons are foaming at the mouth for a fight." Interestingly, the article quotes John Bolton, the fired national security advisor about whom Trump so famously said, "Had I listen to him, we'd be in World War 6 by now." The John Bolton quote itself is worth pondering: "Negotiation is not a policy. It's a technique. It's something you use when it's to your advantage, and something that you don't use when it's not to your advantage."


Unless I see documentation and evidence to the contrary, I am left with the impression that this was, indeed, an act of of war against the Chinese people for which there will be unsavory future consequences.

Buried in the comment section of the previous UNZ article was a submission by a Emir Yilidizdan of a mysterious tweet by Turkish national that read, in part: "The U.S. sent an aircraft of biological weapons to China. Epidemics may begin in China soon."
ACE2 Expression in Kidney and Testis May Cause Kidney and Testis Damage After 2019-nCoV Infection -- So it also sterilizes its victims, so men who don't die are incapable of reproducing? This is major goal of the vaccine crowd. Coincidence? Hey, why not?
How to Yellow-Cake a Tragedy -- The Mainstream Media churns out fake news about everything else. Why would we trust them to accurately report about CoVid-19?
The Four Coronavirus Scenarios: The Bad; The Worse; The Ugly; And The Unthinkable -- The problem is that we are fast approaching "The Unthinkable," if not already there.
Hubei Doctors Warn Of Even-Deadlier Coronavirus Reinfection Causing Sudden Heart Attacks -- What? Me Worry?
Covid-19 Contagion - An "Unprecedented" Moment For Our Hyper-Connected Planet -- I can't see how this doesn't have dramatic effects on markets in 2020.
BEIJING FALLS TO CORONAVIRUS… capital of China locked down under pandemic quarantine -- This was posted on the 9th, but it dramatically underscores other posts being made today.
If you film dead bodies in China, the police will arrive at your front door and arrest you… total censorship, total cover-up of coronavirus outbreak Also from the 9th. Would this be necessary if reported figures were accurate? If there were nothing to hide?
China Is Disintegrating: Steel Demand, Property Sales, Traffic All Approaching Zero -- Read the article carefully and study the graphs. Yeah. It's serious.

Commerce and economic activity in China comes to virtual standstill amid worsening coronavirus outbreak -- "Almost none of the manufacturers are back to work." And imagine -- financial gurus are suggesting that this could have a negative impact on "China's growth outlook for 2020." You think?

BRUTAL: Chinese Leaders to Sacrifice Coronavirus-Infected Cities to Save 11 Others; Prepared to Accept Millions of Fatalities

-- I realize that this post is now two weeks old, but it dovetails with other recent reports that the CoVid-19 viral epidemic is now so grave that Chinese authorities have now entered the "triage" phase, selecting who the millions of people who will die will be.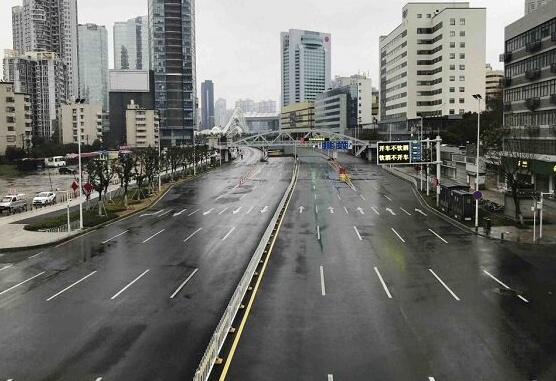 February 14, 2020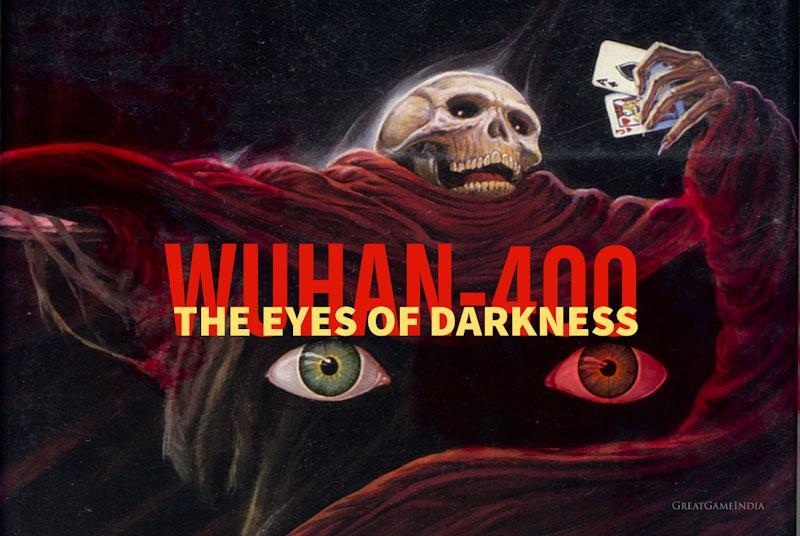 February 13, 2020
1981 novel predicts Wuhan Virus? Shut up, conspiracy theorist!

Here's one that will peg the needle on your weird-shit-o-meter. As reported two days ago in ZeroHedge, "In a bizarre coincidence, a 1981 fictional novel, The Eyes of Darkness, by Dean Koontz predicts a Coronavirus-like outbreak and its origin. The book talks about how the virus called Wuhan-400, was developed in military labs around the Chinese city of Wuhan from where it got its name. [Predictive programming always employs number games. Divide the year 2020 in half and multiply = 400]. The top secret information of the biological weapons program is later acquired by US intelligence from a Chinese defector. The American military is ultimately successful in creating a vaccine which the Chinese could not." . . . They teach in Vedic studies that all information -- past, present, and future -- is contained in the "Akashic Records" and occasionally inquiring minds can access what resides there, out of the reach of the mass majority of people. Great inventors are said to access it. Then again, these nefarious governmental programs are planned so many years in advance, maybe the author just had some good intel . . . If we apply Occam's Razor, which explanation sounds more plausible?

Golly Gee . . . this sounds serious. In Shocking Admission, WHO Advisor Says Coronavirus May Infect Over 5 Billion People --

A billion here and a billion there, and pretty soon you're talking big numbers

.
Reporter Claims Authorities "Hiding" 300 Coronavirus Cases & 1 Death In Shanghai -- Included in this report, Trump says he believes China is handling the epidemic "professionally." Yeah . . . We need to add a new word to the English dictionary that means "underreporting on steroids!"

World's Leading Manufacturer (that would be China) Running Out of Body Bags

-- The title of this video is Funeral - Crematoriums working 24-7.

Virus? What virus?

China Has Ground To A Halt: "On The Ground" Indicators Confirm Worst-Case Scenario -- I think the use of pollution data to get to the real truth as to what's going in China was pretty smart. The prognosis: not good.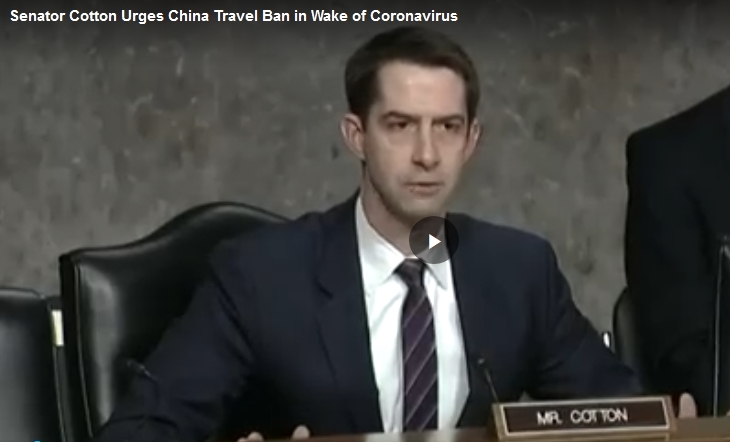 February 12, 2020
NO! . . . THEY'RE TELLING THE TRUTH! . . . CENSOR THEM!

Senator Cotton Urges China Travel Ban in Wake of Coronavirus -- Senator Tom Cotton is the junior Republican senator from Arkansas. So -- get this -- last week he puts out a scathing indictment of all the disinformation that's being pout out about CoronaVirus . . . Big deal, right? . . . Nothing to write home about there!
Wrong.
The reason this deserves attention is because not less than three of my associates have posted this video and their FB accounts have been suspended. The most recent message says: "Watch this before FB bans it ... don't put it publicly on your wall either, as apparently people who've put it on their FB walls have been banned and the video removed, but you can send it in Messenger."

My advise: always pay more attention to the things that the Elite want censored

. [See also on Vimeo]


CHECKMATE

: You need to really understand the subtleties of this post, entitled, China's Fatal Dilemma to understand the severe implications of the current epidemic. To save itself economically, China

must

"reopen its doors to commerce" as quickly as possible, before the entire country implodes. On the other hand, if it does -- (continuing with narratives that are laughably unreal) -- it risks creating a pandemic that is orders of magnitude more severe than the 1917 Spanish flu, which killed millions. Moreover, the gravity of the lies that are necessary to sustain this attempt at self-preservation will be so great that no one -- no person, no organization, no government -- will ever believe anything the Chinese government ever says again. Moreover, no foreigner will be able to travel there without knowing they are at grave risk.
My friend, Dr. Richard Sauder, presents his own position on this designer bug with the latest entry in his Event Horizon Chronicle blog.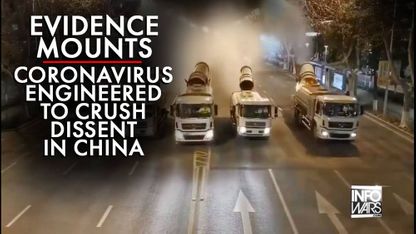 February 11, 2020

February 10, 2020

February 9, 2020
Beijing starts rounding up sufferers and videos show hazmat suit-clad goons dragging people from their homes -- I had some readers questioning the comments by Chinese associates to me that the government was rounding up virus sufferers and taking them directly to crematoriums. This Daily Mail piece says as much while reporting that Chinese officials are dragging people from their homes against their will. Virus sufferers are seen running away from Chinese officials as if their lives depend on it. Could it be because their survival DOES depend upon escape?
50,000 New Infections / Day in China? -- Note the 10 Key Video Points:
--- 50,000 new cases a day in China
--- Infections doubling every 5 days
--- Death rate is still unknown
--- China likely to peak in March
--- Epidemic peak is still a month away
--- Very hard to control this epidemic as they did with SARS 15-20 years ago
--- Cases are always underestimated
--- Death delays are as long as three weeks
--- Reported deaths outside China are not reassuring because of delays
--- We still don't know the full effects


February 8, 2020

February 7, 2020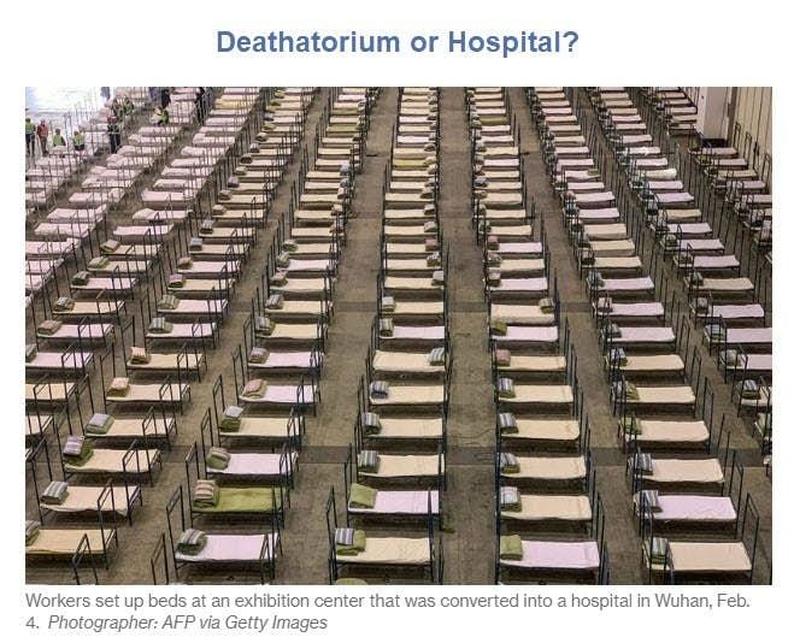 February 6, 2020

February 5, 2020
The first article (ZeroHedge) is a thoughtful analysis that destroys the "nothing burger" position. Those who think this is nothing but "doom porn" have good historical precedent for taking that position. The problem here is that the accumulating news to date is favoring the position that this is, indeed, a serious problem. I could have posted 20 other good articles and reports today about coronavirus. These two -- in terms of substance -- bested the others. See: The Lies We Are Being Told About Coronavirus. The numbers coming out of China don't add up. Read: There Is Something Very Strange In The Latest Chinese Official Coronavirus Numbers. All of this supports an obvious position I argued in The Joys of Psychopathocracy: indeed, the purpose of the news is to test your stupidity and measure your gullibility.

February 4, 2020

February 3, 2020

Up to February 2, 2020


Return to: