Plant Description

Medical Properties

Dosage
Caution & Interaction

Efficacy Studies & Other Clinical Data

Helpful Links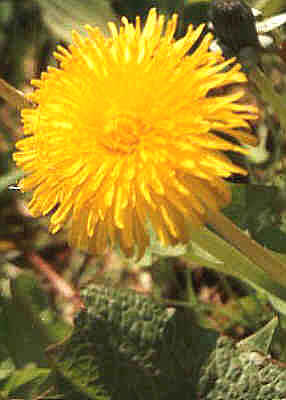 Latin (botanical) name:
Taraxacum officinale
Common names:
Dandelion
Plant Description:Taraxacum is a native of western Europe where it grows in meadows, fields, and uncultivated land. It originated in Central Asia, but now grows almost anywhere in the world, preferring moist conditions. The common Dandelion is a perennial, herbaceous plant with long, lance-shaped, deeply toothed leaves. The leaves are 3-12 inches long. It has yellow composite flowers that are 1-2 inches wide and grow individually on hollow, purplish stalks 2-18 inches tall. Each flower head is made up of hundreds of tiny rays. All parts of the plant contain a sticky, milky white sap and when the flowers are picked, the bitter, milky juice comes out from the broken edges of the stem.

Interesting Historical Notes:The first mention of the Dandelion as a medicine was Chinese herbals around the 7th century. By the 10th and 11th centuries, Arabian physicians spoke of it as a sort of wild endive, under the name of Taraxacon. It was also mentioned in the Welsh medicines of the 13th century. Dandelion was first spoken of in Europe around 1485. It's common name was apparently invented by a 15th century surgeon, who compared the shape of the leaves to a lion's tooth. Various Native American groups used dandelions for food, as an aid for dermatological and gastrointestinal problems, a cure for sore throats, as an analgesic, a sedative, a laxative, a love potion, and a general tonic for good health. Dandelion has been much valued as a medicine for centuries and is still used extensively to treat a variety of ailments.


Medicinal Properties &Uses:
All parts of the Dandelion plant contain a somewhat bitter, milky juice, but the active principle is taraxacin, the "juice" of the root, which is the most powerful part of the plant and most often used for medicinal purposes. This juice stimulates bile secretion. The white sap may be applied directly to warts. Dandelion is used as a general stimulant to the system, but especially to the urinary organs. By stimulating the whole system, Dandelion root helps the liver and kidneys do their work and keeps the bowels in a healthy condition. Aside from its efficacy in the treatment of kidney and liver disorders, it may also be used to treat inflammation and congestion of the liver and gall bladder. Because of its ability to reduce high uric acid levels, it is an effective treatment for gout. Dandelion is a liver cooler for elevated liver enzymes, hives, allergies, hayfever, and Hepatitis C. It can lessen an allergy attack from pollen and is known to also lessen a hive reaction. Because Dandelion is one of the best natural sources of potassium, it is a perfectly balanced and safe diuretic, especially in the circulatory areas, so it will reduce blood volume and high blood pressure. It is an excellent remedy for water retention. Dandelion is an effective cleansing herb for conditions of the skin such as acne, eczema, and psoriasis. Dandelion has been a valuable remedy for habitual constipation as it acts like a mild laxative.
Dosage:
30-60 drops in water or juice, 2-3 times daily, or as needed. Shake well before using.
Cautions & Interactions:
Contraindicated in blockage of the bile ducts, acute gallbladder inflammation, and intestinal blockage. Keep out of reach of children.
Efficacy Studies & Other Clinical Data:
Various clinical studies have demonstrated the legitimate use of dandelion as a diuretic a bile production stimulant, a mild laxative, and an excellent source of potassium.
Helpful Links:
Disclaimer (U.S. Only):
These statements have not been evaluated by the FDA. These products are not intended to diagnose, cure, treat, or prevent any disease.