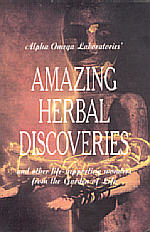 he foundation for most of the formulary work at
Alpha Omega Labs
has been phytopharmacology - what most people call "plant medicine" (we expand on this in our
introductory
page). The result of this work has been the creation of specific, combination formulas created to address specific health care concerns.

Phyto Rx
(tm) is a departure from our established formulary work in that it uses well-established extraction methods, using an alcohol base, to create traditional, reasonably priced herbal tinctures.

The vast majority of these formulas are well-known to practicing medicinal herbalists - with informational pages and monographs available from any search engine. Nonetheless, you will find our own monograph pages below -- including descriptions, links to clinical studies (where available), and helpful links.

As always,
email our staff
with any comments or technical questions.