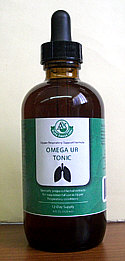 Since 2002 our
Liver / Colon Cleansing Program
has been popular for those wishing to maintain optimal health of these vital organs. Many degenerative conditions are either caused by or found to be exacerbated by vital organs that are not properly maintained. This is a wisdom that can be found in the ethnobotanical traditions of indigenous peoples the world over. In South America alone, by way of example, it is well known that
Chanca Piedra
is valuable in cleaning the kidneys to prevent the formation of stones and accumulation of calcified debris. It is used in the
Indonesian "jamu herbal tradition" and in Indian ayurvedic medicine
for the very same purpose. These are cultures that are separated by great distances.

What is lesser known is the practice of cleaning out the lungs, which if not also properly maintained, can also pose medical risks over time. With this in mind, we created a series of products which -- based on one's constitution, living environment, lifestyle, and pre-existing pulmonary conditions (if any) -- are valuable tools to cleaning the lungs and keeping them clean.

Although the products are discussed in the video above, we still recommend reading the product pages:
AO Smoker's Cleanse -- Used to clean out debris from the lungs. Highly recommended for smokers (which is how the product got its name), but beneficial for everyone, particularly adults who live in congested cities with high levels of air pollution. This formula is a variant of an old "sweat lodge" combination that was used by Lakota tribesmen to clear the lungs. No one uses this formula who does not experience a benefit.
Omega UR -- Handed down by a cherokee group in Georgia who used a variation of this formula for countless generations to treat chest congestion, emphysema, pleuresy and bronchitis. (For bronchitis, we normally use H3O [Calcium Sulfate Hydronium Solution]. In our own work, this product is our first choice for chronic obstructive pulmonary disease (COPD) and pleuresy.)
Botanical Support - Lung -- This formula was obtained from indigenous peoples in Brazil. It is used to nourish and strengthen the lungs. It is a part of the ten-member Botanical Support group.



These and other amazing formulas with long histories of effective use can found on
our online stores
, or you can write to us at
support@herbhealers.com
for more information, or call us:
(305) 851-2308.
Discount Codes thru Sept. 30, 2019
Use the following Discount Code on the checkout page of
either of our web stores
to get the indicated discount on your product purchase.
Only one discount code per tranaction.
10SEP2019 = 10% off
any purchase over $100
FSSEP2019
-- free shipping on any purchase of $250 or more
SALVEBOOK9_2019 = Free digital copy of BLACK SALVE
on any purchase over $75
SANG919
= 30% off Sangre de Drago (8 fl. oz.)
Questions?
: Write to us at
support@herbhealers.com

Blessings . . .