botanical names, which can make it confusing. Taylor refers to it as
. Other common names besides Suma include Brazilian ginseng, Carango Acu, Paratudo, Russian Secret, and Para Tudo ("for everything") which is a reference to many Brazilian herbalist's belief that it is a veritable panacea -- an exaggeration perhaps, but certainly a sign of reverence.
Uses & Protocols

Among the indigenous in Brazil, Suma is used primarily as a general tonic (taken in tea form), as a rejuvenating, energy, and sexual tonic; calming agent; aphrodisiac; and calming agent. With the advent of more thorough investigations, additional indications have been added by modern practitioners: for use as an adatogen, cellular oxygenator, memory enhancement, blood sugar regulation, immune booster, estrogen builder, muscle strengthening, impotence, chronic fatigue, diabetes, cancer, PMS, mononucleosis, menopause, and hormonal disorders. Additional applications include: menopausal and menstrual symptoms, minimizing the side effects of birth control medications, high cholesterol, infertility, neutralization of toxins, and as a general restorative after illness.
Warnings & Contraindications

Women with estrogen-positive cancers should avoid. Dosage should be reduced if stomachic or gastric discomfort result. No drug contraindications reported.
Shelf-Life

Five years or more.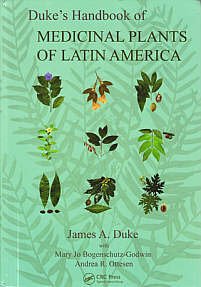 Medicinal Activities

Further information for practitioners:
World-famous botanist Dr. James Duke attributes the following activities to this plant
(p. 347-349; see hardcopy cover at right),
drawn from the extant literature. (See his graduation for "level of efficacy" on our
amazon traditionals page
; followed by Duke's bibliographic abbreviations (in capital letters), which we
identify on a separate page
.)

Duke provides a "
food farmacy potential
" score for this plant of "FNFF=!."
Adaptogenic (f; APA; RAI)
Anabolic (f; RAI)
Analgesic (f; RAI)
Androgenic (1; X14967943)
Antiaging (f; MPB)
Antiallergenic (f; RAI)
Antiascites (1; APA)
Anticancer (f1; APA; MPB; X16039950)
Antidiabetic (f; MPB)
Antiinflammatory (f; RAI)
Antileukemic (1; X10917139)
Antilymphomic (1; RAI)
Antimelanomic (f; APA)
Antineoplastic (1; X16051424)
Antitumor (1; APA)
Antiviral (f; APA)
Aphrodisiac (f1; MPB; X10227074)
Chemopreventive (f; APA)
Circulotonic (f; RAI)
Estrogenic (1; RAI; X14967943)
Hypoglycemic (1; X15784959)
Immunostimulant (f1; APA; RAI; X16214177)
Memorigenic (f; RAI)
Myotonic (f; RAI)
Orexigenic (f; RAI)
Phagocytotic (1; X16214177)
Progesterogenic (1; X14967943)
Testosterogenic (1; X14967943)
Tonic (f; MPB)
Tranquilizer (f; RAI)
Indications

Further information for practitioners:
Duke provides the following indications for this plant:
Aging (f; MPB)
Allergies (f; RAI)
Alzheimer's (f; RAI)
Anemia (f1; RAI; X11091225)
Arteriosclerosis (f; RAI)
Arthosis (f; RAI)
Asthma (f; RAI)
Bronchosis (f; RAI)
Cancer (f1; APA; MPB; X16039950)
Cancer, colon (1; RAI)
Cancer, liver (1; X16039950)
Cancer, lung (1; RAI)
CFS (f; RAI)
Circulosis (f; RAI)
Diabetes (f1; APA; MPB; X15784959)
Dysentery (f; RAI)
Dysmenorrhea (f; RAI)
Dyspepsia (f; RAI)
EBV (f; APA; RAI)
Enterosis (1; RAI)
Fatigue (f; APA)
Gas (f; RAI)
Gastrosis (f; RAI)
Hepatosis (1; X16039950)
High Blood Pressure (f; RAI)
High Cholesterol (f; RAI)
Hyperglycemia (1; RAI; X15784959)
Immunodepression (f; RAI)
Impotence (f1; MPB; RAI; X10227074)
Inflammation (f1; RAI)
Leukemia (1; RAI; X10917139)
Lymphoma (1; RAI)
Malaria (f; RAI)
Melanoma (f; APA)
Memory (f; RAI)
Menopause (f; APA; RAI)
Mononucleosis (f; RAI)
Neurosis (f; RAI)
Pain (f1; RAI)
PMS (f; RAI)
Psoriasis (f; RAI)
Rheumatism (f; RAI)
Sickle Cell Anemia (1; X11091225)
Sterility (f; RAI)
Stomachache (f; RAI)
Stress (f; APA; RAI)
Tremors (f; RAI)
Tumors (f; RAI)
Viruses (f; APA)