Vassourinha ("sweet broom" or "licorice weed") is a small shrub of the foxglove family. Although it can be found in USDA Zones 9 thru 11 in the U.S., it is most abundant in South America, where in some areas it is considered invasive. Having a long list of medicinal properties, Vassourinha (known as "Tiatina" here in Ecuador -- which is only one of over a 120 different common names which this species possesses) is a prominent feature of the herbal medicine practices in every tropical culture in which the plant is found.
Uses & Protocols

In Peru and Ecuador, Vassourinha is used primarily to treat aches, pain, cough, diarrhea, fever, headaches, hemorrhoids, infection, inflammation and swelling, nephrosis, rash, and respirosis. In Brazil, additional indications include abortion, bronchoses, dermatosis, diabetes, earache, gastrosis, hepatosis, hyperglycemia, jaundice, worms, and wounds. In Ayurveda, the tea leaf is used to treat diabetes.

Its use in anticancer and antiviral formulas has been supported by a variety of recent clinical studies.
Warnings & Contraindications

Not to be taken during pregnancy. Do not combine with antidepressants or barbiturates unless under supervision of a qualified health practitioner. May be contraindicated with hypoglycemia is some individuals. Diabetics: check blood glucose levels during use to monitor effects.
Shelf-Life

Five years or more.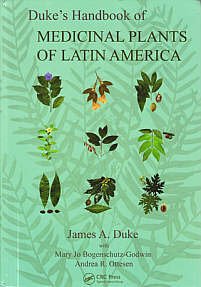 Medicinal Activities

Further information for practitioners:
World-famous botanist Dr. James Duke attributes the following activities to this plant
(p. 614-617; see hardcopy cover at right),
drawn from the extant literature. (See his graduation for "level of efficacy" on our
amazon traditionals page
; followed by Duke's bibliographic abbreviations (in capital letters), which we
identify on a separate page
.)

Duke provides a "
food farmacy potential
" score for this plant of "FNFF=?."
Abortifacient (f; AUS; DAV)
Analgesic (f1; JNP67:725; RAI; X1841990)
Antidiabetic (1; MPG)
Antiedemic (f; SAR)
Antiemetic (f; RAR)
Antifilarial (f; AUS)
Antiherpetic (1; FNF; X11678658)
Antiinflammatory (f1; JNP65:614; MPB; RAI)
Antileukemic (1; RAI)
Antioxidant (1; JMF4:179; X15900084)
Antiplaque (1; EMP5:209)
Antiradicular (1; JMF4:179)
Antiseptic (f; DAV; GMJ; RAI)
Antispasmodic (f1; GMJ; RAI)
Antitumor (1; RAI; X11678658)
Antitussive (f; MD2; RAR)
Antiulcer (1; X11678658)
Antiviral (1; RAI; X11678658)
Aphrodisiac (f; AUS; RAI; UPW)
Astringent (f; DAV; VOD)
Bactericide (f1; JNP65:614; MPG; RAI)
Beta-Glucuronidase-Inhibitor (1; X1294695)
Cardiotonic (1; MPB; RAI)
Cholagogue (f; GMJ)
CNS-Depressant (1; JFM)
Collyrium (f; GMJ)
Contraceptive (f; AUS; DAV; SAR)
Cytotoxic (1; FNF; X11678658)
Decongestant (f; RAI)
Dentifrice (f; AUS)
Depurative (f; DAV; RAI)
Detoxicant (f; JMF4:179)
Diaphoretic (f; JFM)
Digestive (f; GMJ)
Diuretic (1; X11534346)
Emetic (f; AUS; DAV)
Emmenagogue (1; RAI)
Emollient (f; KAB; VOD)
Expectorant (f1; MPG; RAI)
Febrifuge (f1; DAV; MPB; RAI)
Fungicide (f1; JNP65:614; RAI)
Gastroprotective (1; X11678658)
H+-ATPase-Inhibitor (1; JNP65:614)
Hypertensive (1; JNP65:614)
Hypoglycemic (1; RAI)
Hypotensive (1; RAI)
Inotropic (1; X8832498)
Insecticide (f; AUS)
Insulinogenic (1; X15306167)
K+-ATPase-Inhibitor (1; JNP65:614)
Litholytic (f; RAI)
Mucolytic (f; MPG)
Mutagenic (1; X10052564)
Myorelaxant (f; JNP65:614)
Neurotropic (1: JNP67:725)
Orexigenic (f; UPW)
Pectoral (f; MPB)
Pediculicide (f; JFM)
Plasmodicide (1; AUS)
Pulicide (f; JFM)
Secretagogue (1; X15306167)
Sedative (f1; JNP65:614, MPG)
Stomachic (f; MPG)
Sympathomimetic (1; X8832498)
Tonic (f; JFM; RAI)
Vermifuge (f; AUS)
Vulnerary (f1; DLZ; RAI; WOI; X8832498)
Indications

Further information for practitioners:
Duke provides the following indications for this plant:
Ague (f; KAB)
Albuminuria (f1; RAI; WOI)
Anemia (f1; RAI; WOI)
Bacteria (f; JNP65:614)
Bites (f; JNP65:614)
Blennorrhagia (f; KAB)
Bronchosis (f; DAV; JNP67:725; MPB; RAI)
Bruises (f; AUS; JFM)
Burns (f; RAI)
Cachexia (f; UPW)
Cancer (1; RAI; X11678658)
Cancer, bone (1; RAI)
Cancer, brain (1; RAI)
Cardiopathy (f1; JNP65:614; MPB; RAI; VOD)
Cerebrosis (1; RAI)
Childbirth (f; JNP65:614; RAI; VOD)
Colic (f; MPG; RAI)
Conjunctivosis (f; DAV; RAI)
Constipation (f; MPG)
Corneosis (1; X11678658)
Coughs (f; DAV; MD2; RAI; RAR)
Cramps (f; GMJ)
Dermatosis (f; MD2; RAI; UPW; VOD)
Diabetes (f1; MPB; RAI; WOI; X15306167; X15900084)
Diarrhea (f; DAV; JFM; RAI; VOD)
Dysmenorrhea (f1; JFM, MPG, RAI; X1841990)
Dyspepsia (f; MPG)
Dysuria (f; JFM; MPB; MPG)
Earache (f; AHL; JFM)
Eczema (f; JFM)
Edema (f; JFM)
Enterosis (f; JMF4:179; VOD)
Erysipelas (f; DAV; MPB; RAI)
Fatigue (f; UPW)
Fever (f; DAV; JFM; MD2; RAI; VOD)
Filaria (f; AUS)
Fridigity (f; MPG)
Fungus (f; JNP65:614)
Gas (f; MPG)
Gatrosis (f; JMF4:179; KAB; RAI)
Glycosuria (1; WOI)
Gonorrhea (f; AHL; JFM; RAI)
Gravel (f; WOI)
Headache (f; DAV; GMJ; JFM; MD2; RAI)
Hemorrhoids (f; AHL; DAV; RAI; VOD)
Hepatosis (f; JFM; RAI)
Herpes (1; RAI; X2852487)
High Blood Pressure (f1; RAI)
Hyperglycemia (1; WOI)
Impotence (f; RAI; UPW)
Infection (f1; DAV; RAI; X11678658)
Infertily (f; MD2; UPW)
Inflammation (f1; AUS; JNP65:614)
Insomnia (f; JNP65:614)
Itch (f; RAI; UPW)
Jaundice (f; JFM; RAI)
Ketonuria (1; WOI)
Leprosy (f; RAI; UPW)
Leukorrhea (f; JFM)
Lice (f; JFM)
Low Blood Pressure (f; JNP65:614)
Malaria (f1; AUS; JNP65:614; RAI)
Mange (f; JFM)
Marasmus (f; JFM)
Melanoma (f; RAI)
Metritis (f; DLZ)
Metrorrhagia (f; JFM)
Migraine (f; DAV)
Mucososis (1; X8832498)
Nausea (f; MD2; RAI)
Nephrosis (f; DAV; RAI)
Oliguria (f; RAI)
Ophthalmia (f1; DAV; GMJ; WOI)
Osteosis (1; RAI)
Pain (f1; JFM; JNP67:725; MPB; RAI; VOD; X1841990)
Pneumonia (f; RAR)
Pulmonosis (f; JFM; RAI)
Rashes (f; JFM; MD2)
Respirosis (f; RAI)
Retinosis (f; WOI)
Snake Bite (f; RAI)
Sores (f; JFM; RAI)
Sore Throat (f; KAB; RAI)
Stings (f; RAI)
Stomachache (f; AHL; BEJ; JMF4:179; RAI)
Stomatosis (f; JFM)
Stones (f; RAI)
Swelling (f; SAR)
Syphilis (f; VOD)
Thrush (fl; UPW)
Toothache (f; AHL; RAI)
Tumors (f1; RAI)
Ulcers (1; X11678658)
Urethrosis (f; MPB)
Urticaria (f; MPG)
UTIs (f; RAI)
Vaginosis (f; MPG)
VD (f; JFM; RAI; VOD)
Viruses (1; RAI; X11678658; X2852487)
Wounds (f1; DAV; RAI; SAR; WOI)
Yellow Fever (f; JFM)