(click photo to enlarge)

My introduction to
MMS
(Miracle Mineral Supplement) came through a very close friend of author,
Jim Humble
, who produced "Breakthrough: The Miracle Mineral Supplement of the 21st Century."
Available for just $9.99
from Amazon, I believe it one of the most important books to come into the alternative health care community in years -- this, despite the fact that the book has a folksy, almost "dumbed down" feel to it that will cause some conservative, conventional practitioners to wince. The style, however, is clearly conceived so that no one can complain that they don't "get it." (This, my friends, is the "Dummy's Guide to Cheap, Effective Bio-Oxidative Therapy.")

After speaking with Jim by phone in 2006, I began investigating his claims before Cathryn and I left for Ecuador -- and although Humble's delivery and product claims may seem hyperbolic, we have found in working with variations of MMS that the bulk of what he says stands up well to scrutiny.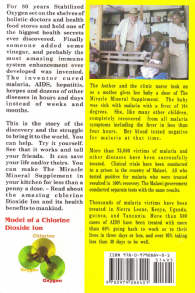 (Back Cover -
click photo to enlarge)

Amazingly, the bulk of Jim's work is just common sense applied to hornbook chemistry. After all, the properties of
chlorine dioxide
(Cl02) and the manner in which it is quickly
created with aqueous sodium chlorite
are well-established. Its medical properties as a powerful pathogen killer -- among bacteria, viruses, and parasitic amoeba -- are well-known. Properly taken, chlorine dioxide stands within the ranks of other powerful, oxidating microbicidals, some of which we have written ourselves on this site, including
hydrogen peroxide
and ozone (as found in
Quikheal
). We ourselves chose the name
AO Chlorite
-- because, although more esoteric to those unfamiliar with the chemistry, it is more accurate. (The product name,
MMS
(Miracle Mineral Supplement) gives the impression that it is a mineral that acts as the curative agent -- when, in reality, it is the oxidative process initiated by the oxygen side of the ClO2 molecule in the finished preparation).

In addition to its availability on Amazon, Jim Humble's book
can be purchased from the book's dedicated website
-- and the product itself has been
available in 4 fl. oz. bottles from an associate site
.

Among the many people I have met in this business, I have yet to meet a more selfless, tireless individual -- whose focus is empowering ordinary people with yet another simple cure that has been sitting under our noses for well over a century.

Word about what this product is and what it does is
going to cost Big Pharma untold billions
before it's all over.

What to do? . . . with all these hundreds of thousands of people worldwide who
already
know what sodium chlorite solution is, what it does, how to make it, how to use it,
and how
it has been suppressed?

Update on Preparation:
ACV (Apple Cidar Vinegar) and citric acid solution have been, to date, the most common "activators" for MMS. However, we have found that
H3O
, (which we also call "Calcium Sulfate Hydronium Concentrate"), in some respects works better, while reducing instances of nausea. You simply take a small cup --- (one that will accommodate at least 4 fl. oz. of fluid) --- and then drop in your target dosage (normally anywhere from one to fifteen drops) into the cup, followed by an equal number of drops of H3O (the amount does not have to be exact) and allow a minimum of fifteen seconds to react. Following this reaction, simply mix in about four oz. of water or juice, then drink.