Cansema / CanSupport - 2001-2002 (Human)

Submit Your Own Testimonial

Older Testimonials
: 1995-2000

2003
Lab Closed:
9/2003 to 2007

2007-2008
Video Testimonials

Veterinary Testimonials
Bloodroot Paste Testimonials
'The Impossible Mandate Principles': New Corollaries of Parkinson's Law:
Why the Orthodox Community is Hellbent on Suppressing Cansema & Similar Effective Solutions

Your Newest Mail:
Mailbox Excerpts
for
2002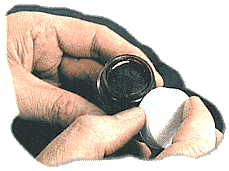 The testimonials below are just a few that have been collected on the effectiveness of Cansema (both black topical salve and our internal versions - human use only, see also animal use), as well as our CanSupport products.


We have made no attempt to alter any of the language (syntax, punctuation, spelling, etc.) of these written letters and/or email missives, excepting minor spelling errors. Thousands of other individuals have been helped who did not take the time to sit down and write letters or send email. You may contact these individuals directly, if you wish, where contact information is provided.


This page has little graphics, but is text heavy. We have a pictorial testimony page, if you want a more visual representation of how Cansema works.



Disclaimer:

The purpose of these testimonials is to provide you with an insight as to what other

Alpha Omega

users have reported, and to provide a foundation for the legitimacy of our research and overall work. No responsible maker of herbal products, Alpha Omega included, would infer that testimonial inputs carry the same weight as well-constructed clinical studies.

To U.S. Users:

None of the Alpha Omega Labs' products mentioned in these pages have been evaluated by the U.S. Food & Drug Administration. Therefore, they are not intended to diagnose, treat, cure, or prevent any disease.



<!- T E S T I M O N I A L S B E G I N ->

Case #120902: Cansema Salve: Numerous Undiagnosed Skin Cancers


Greetings,


I would like to tell you about my experience with cansema.


I have had a number of skin cancers (squamous cell and basal cell carcinoma) cut off of my face and chest. It was not fun. I am light colored and had a lot of sun exposure during active duty in the U.S. Coast Guard. I'm familiar with skin cancer and what it looks like. My brother died in his mid-thirties of melanoma.


I had two lesions that I was concerned about for about a year, one on my arm and one on the top of my head. They would easily bleed if bumped or rubbed and they would hurt. I did not have them checked by a doctor since I was trying other health alternatives but I am sure they were some form of skin cancer. I ordered some cansema from the web. The literature said that this product would only attack skin cancer and would not damage normal skin. In fact it is a pretty good indicator of whether a spot is skin cancer or something else.


I put Cansema on the spot on my arm, which was about the diameter of a pencil eraser. In about 5 minutes I could feel a little pain. In about four days a pussy scab had developed and when I poured hydrogen peroxide on it it lifted up. There was a clean, wet "hole" in my arm that has been going through the process of scabing and healing up. Today (about 3 weeks later) there is almost nothing to see.


The same thing happened with the spot on the bald portion of my head. There were about 5 or 6 smaller spots on my head that it also attacked. The pain was so minimal on my arm that I went ahead and put it on all of the spots on my head. That was a mistake. It turned out to be very painful. I should have followed the directions and put it on one spot at a time. But it worked!


I put it on some rough skin on my face that were suspect but no reaction took place. I have put it on some rough skin on my right arm and was surprised to find that it reacted and attacked them.


This product is truly amazing. A very small bottle, about the diameter of a quarter and about 1/2" high was $50. But it only takes a minute amount. It is difficult to tell that I have used any of it. It was worth every cent if it treated just one of those spots. I tell everyone about it. Thank you!!!



(man withheld by request)
********@comdt.uscg.mil
Sent via email: 12/09/02
.



Case #113002: Cansema Salve: Squamous Cell Carcinoma


First my sincere thanks for your black salve which has enabled me to heal a squamous cell cancer on my foot without surgery. I am so grateful.



Mrs. H.W.
*******@msn.com
Sent via email: 11/30/02




Case #110402: Cansema Salve: Numerous Skin Cancers ---- (Australia)


I want to commend you for the efficacy of your Cansema escharotic salve. My elderly parents, my sister and I have used it with 100% success on numerous skin lesions. My father in particular has many skin cancers and is enthusiastically eliminating growths with Cansema - cancers which had kept on coming back after repeated visits to the dermatologist to have them "burnt" off. I personally am thankful for having tried the salve on a small, nondescript blemish on the back of my left hand which turned out to be a large subdermal growth having roots going nearly all the way through to my palm! My sister, in the meantime, has a cancer on her face which previous radiation "therapy" failed to resolve (and killed her sense of smell). Now she has something to use which actually works (and we are looking at Alpha Omega Labs' internal cancer remedies to supplement the topical approach).


We have been very pleasantly surprised to see how far one little jar of Cansema will go. Despite the many skin cancers which they have killed, my parents' jar is still virtually full - just the tiniest amount of the stuff does the trick every time! That one jar will probably last them at least a couple of years, despite regular use.


Effective topical ointments to treat skin cancers have occasionally become available in Australia (Curaderm was one) but they invariably get squashed in short time by the medical cartel here. Thankfully your persistence in developing and providing effective solutions from beyond their monopolistic reach gives us another option for survival. Keep doing what you do!



Pat Kenny
prkenny@zip.com.au
Sent via email: 11/04/02
.



Case #101502: Cansema / Cansupport: Lung & Colon Cancer

(Quito, Equador --- translated from the

submitted Spanish text

)




I AM A 68 YEAR OLD WOMAN WHO LIVES IN MIAMI BEACH, FLORIDA. I WAS RECENTLY DIAGNOSED WITH CANCER OF THE COLON (VERY EARLY) AND CANCER OF THE LUNGS.


THE SPECIALISTS RECOMMENDED SURGERY IN THE COLON AREA AFTER A COLONOSCOPY WAS PERFORMED, CONFIRMING THE DIAGNOSIS. I REALLY DID NOT WANT ANY SURGERY OF ANY KIND.


I HEARD ABOUT DR. ROBERT WICKMAN IN QUITO, ECUADOR AND HIS ABILITIES TO CURE CANCER WITHOUT SURGERY OR CHEMICALS. THIS REALLY APPEALED TO ME SO I TOOK MY HUSBAND AND TOGETHER WE WENT TO ECUADOR.


DR. WICKMAN PUT US ON INTENSIVE THERAPY USING VARIOUS MODALITIES INCLUDING AN ELECTRO-MAGNETIC WAVE MACHINE, SUPPLEMENTS SUCH AS CANSEMA TONIC, CANSEMA SUPPORT CAPSULES, ONCARIA, AND OLD AMISH DEWORMER, AS I FOUND I HAD PARASITES. ALL OF THIS WORKED VERY WELL AND IN THREE WEEKS I WENT TO THE LABORATORY TO CONFIRM THAT MY LIVER ENZYMES WERE ALL IN THE NORMAL RANGE. MY "CEA" LEVEL HAD DROPPED SIGNIFICANTLY TO ALMOST NORMAL. THE DOCTOR (DR. WICKMAN) TOLD ME THIS WOULD CONTINUE TO DROP SINCE THERE WAS NO CANCER IN MY BODY.


I AM VERY PLEASED WITH ALL THE TREATMENTS I RECEIVED THERE INCLUDING THE MACHINES AND ORAL MEDICINE. EVERYTHING WAS NATURAL AND I HAD NO INTER-REACTIONS. I CAME BACK TO MIAMI BEACH IN HIGH SPIRITS READY TO CONTINUE WITH MY LIFE. I HAVE NO PAINS OR DISCOMFORTS.



"Bernice"
Sent via email: 10/15/02
.


Case #091102: Cansema / Cansupport: Liver Cancer

Hello, I have been taking your liver/kindey bundles for almost 3 months running, missing a day here and there, but with very, VERY good results. Of late I have slowed and stopped doing almost everything I was doing to beat cancer, except the old friend, i.e. maximum doses of vitamins, 90% of the time; clean diet, lifestyle change, and contact with an old childhood friend, named God, and your product, among others ... just to see how I am ... and i must say very well, thank you. Not that I am completly finished, I can tell my body still struggles, but now I know what to do and what i can do, and I do believe ... with all of the above, that I will beat cancer. Because I am ...



Mario Cosentino
Sent via email: 9/23/02
.

Case #091002: Cansema Salve & Basal Cell Carcinoma




My name is Barbara Baker, I raise emus and have known of the benefits of their amazing oil for years. Due to the fact that I raise emus and have become open to the alternative treatments of various ailments, it was with no hesitation that I decided to use your Cansema on a small diagnosed basel cell carcinoma that I had tried to have removed by a plastic surgeon last year.


This doctor removed a portion of the tumor and then asked me to return in a month so he could try to get the rest. Lucky for me, I supply various herb shops with my emu oil products and during a delivery of products happened to mention that I was scheduled to have surgery 'again' to remove the cancer that was in...of all places, the very center of my forehead.


This cancer had come up about 4 years ago as a pimple that seemed a bit stubborn to heal. Normally, my emu oil will take down any type of blemish overnight. This area would heal and reappear after a couple months. Finally, I knew it was something to be concerned about and tried treating it with some type of salve, that only ate away all the tissue it touched. The cancer returned only larger, this is when I went to have it removed and was disappointed that the doctor elected to remove only a portion of it. So I waited a year before scheduling with another doctor who I knew performed Moh's procedure that took layers of tissue out and looked for cancer while you were there. This was the one appointment I cancelled. In fact I was due to be there this morning for surgery.


Thanks to Addy, the owner of the herb shop, I used the Cansema...one application and followed directions. Addy had some Cansema she had purchased years ago and once it was applied, there was tingling and burning in the area.


The next day, I removed the bandaid and cleaned the area, the tumor was quite large and very unhappy...it was dead. The Cansema Salve did not cause harm to the healthy skin...this was unbelievable!


On the 11th day, yesterday in fact, the tumor came out...roots and all. I have no doubt the doctor would have carved me up like a Christmas Goose to get the roots all out. As it is, I do have a really nice hole but I am confident the emu oil will heal it quickly and without scaring.


Thank you so much for producing such an amazing product. I give talks to groups weekly and I will spread the word that there is a choice other then surgery should a person be willing to give it a try.


Thankfully yours,



Barbara Baker
Baker's Acres Emu Farm
13895 Woolsey Road
Hampton, GA 30228
(770) 946-3014
Sent via email: 9/10/02
.



Case #082302: Cansema Salve & Skin Cancer




My father, who has just recently retired from farming, is a regular at the skin specialist to have skin cancers removed. He had a nasty sore on his left thumb which would not heal. He had this sore for approximately 4-5 months and found that it had actually gotten worse and was extremely painful to touch. He had tried a range of antiseptic creams and it became evident that this was not a typical cut, abrasion or sore (it appeared the same as other skin cancers he had removed). I suggested that he try the Cansema Salve on the sore.


To his surprise, within 24 hours the sore had developed a significant pus formation. Within 10 days the sore had completely healed with no sign of pain. I have also used the salve myself on a suspect skin abnormality and achieved the complete removal of the blemish following the exact pattern that is indicated [on your site].


This product clearly works, and I intend using it on a range of other suspect skin abnormalities.


The truth about cancer treatment will one day prevail!



bl@sjcftg.melb.catholic.edu.au
Victoria, Australia
Sent via email: 8/23/02
.


Case #072402: Cansema - CanSupport / Non-Hodgkin's Lymphoma




History: My husband was diagnosed with Non-Hodgkin's Lymphoma, Stage IV, and it had turned into CLL, August of 2001. Early in the year (2002), he had melanoma surgery, therefore, they elected not to treat him with chemo or radiation ...


We got a GREAT report from my husband's "pet scan," July 18, 2002. No (malignant) lymphocytes are showing in his lymphatic system. The doctor's nurse called and said it was good news and he was responding well to treatment. I said, "He hasn't had (any conventional) treatment; we are treating him with alternative medicine." She asked what kind. I told her and she said, "I guess the Doctor will want to talk with you about this."


We were told of your products, and (my husband) has been taking them along with flaxseed oil and changing his diet, since January, 2002.


We felt this is too good to be true!!! Still in shock!!!



Donna C. (USA)
Sent via email: 8/24/02
.


Case #070502: Cansema Salve / Tonic III / HRx used in conjunction with Melanoma & Prostate Cancer




I have been a customer of yours since January of 2002. I first used the Cancema Black Topical Salve on a melanoma on my back on Jan. 21 and a second application on Jan. 22.


On Feb. 4th the cancer came out and has healed up leaving only a scar. That cancer was protruding & oozing out of my back for over two years! I refused surgery and radiation. I thank God that I found your company after praying for help for the last two years. (During that time I also used the Cancema Tonic III for one month.)


I also have been aware of my prostate problems, and started taking the Prostate CanSupport & Cancema Tonic 111 with the HRX included on June 7, 2002. I am feeling so much better. I still get up a couple times a night to urinate. But before I started on the products I was up every hour during the night and I could not travel in a car only a couple of miles with out stopping to use the bathroom.


I am 56 years old . . .


I want to thank you folks for your wonderful products. I tell anyone and every one who will listen.


God bless.



L. S.
Latrobe, PA (USA)
Sent via email: 7/5/2002
.


Case #062602: Cansema Salve & Undiagnosed Skin Cancer




I am writing to let you know how pleased I am with your product: Cansema Black Salve.


For years I have had what I consider to be some form of skin cancer on the upper portion of my left arm. It has never been officially "diagnosed" but I know that that is what it is. In the last year or so the spot began to flake and peel regularly, which caused me great concern. I began to research alternative therapies, as I believe conventional treatments for skin cancer are less than effective....even dangerous. I found Cansema.....and decided to give it a try.


I applied it to the spot and within 10 hours the spot began to tingle and burn. It was not terribly painful, although the spot and surrounding area burned a bit, was tender, red and warm. i applied the salve once every 24 hours for three consecutive days.


I am now on Day 6.


During the first three days, the spot that I was concerned about began to turn white ... and ooze a little pus. But so did two other spots surronding the initial spot....which had not even been visible on the skin. All of the spots formed pus....and then scabbed over. Two of the scabs have already come off, leaving a "cavity." One of the scabs has not fallen off yet. It appears that all of the "cancer" has been removed in the areas where the scabs have fallen off.


Thank you for making this product available!



(Woman's name withheld by request)
Sent via email: 6/26/2002
.


[Editor's Comments:
We get a lot of letters like this - inevitable because Cansema Salve works on skin cancers over 98% of the time - higher than that if you factor out "inaccessibility cases" caused by deep growths. We reproduced this case because one thing bears repeating: even if you choose to follow one of our protocols to get rid of a cancer, you still lose something by not going to a licensed health care professional to get a qualified diagnosis first. If you just get rid of the cancer on your own, you risk not uncovering a possible related health care problem. We realize that thousands of people aren't heeding our advice on this - but they should. The diagnostic part of a physician's work should always be separated from his therapeutic recommendations. You don't lose anything by leaning on a good doctor's professional advice. That doesn't mean you're forced to accept any radical solutions he may propose after diagnosis, but at least you got a professional opinion first and then can make an informed consumer decision with a good diagnosis in hand.]
Case #061902: Cansema Salve & BCC (Basal Cell Carcinoma)

Hi there, My name is Mike Kitts, in Albuquerque, New Mexico. Several weeks ago, I ordered the cansema black topical salve because of a developed basal cell. I followed your directions faithfully, and within 9 days, that damn thing fell off and was dead. I took the dead tumor back to UNMH for an analysis, and had them look at the crater. I am quickly healing because of alow vera gel. I need to ask you for a list of ingredients of the cansema salve, and thank you folks for your research and development, and your patience, for making this and having it work so effectively. Please keep in touch, and let me know what other wonderful things you folks are coming up with. Thanks ever so much...



Mike Kitts
Albuquerque, NM (USA)
mikekitts87108@yahoo.com
Sent via email: 6/19/2002
.


[Our Immediate Response:
"Sure ... see www.altcancer.net/faqcan.htm ...
Your question is enclosed in Question #200.. you click it to get the answer to the right."]

Other Comments:
We are sometimes asked why we don't recommend aloe vera more often. It does, after all, have remarkable healing properties - we acknowledge this. There are two reasons for this --- in our own experimentations,
QuikHeal
and
H3O
actually worked better - depending on the individual - and secondly, most of the healing properties of aloe vera are contained in the polysaccharides that are extracted from the fillet. Most commercial processors use methods that destroy most of these polysaccharides before they are ever used by the consumer. Our advise if you are an advocate of aloe vera: if you can,
grow your own
. The plant is hearty -- available from most nurseries in the Southwest and Southern U.S., Mediterranean, and many other warm climates in the world ... It doesn't take up much space, and it makes a wonderful ornamental plant on any patio. That way - when you want to use aloe, it's fresh and in its most active medicinal state.
Case #061502: Breast Cancer & Cansema

How can I thank you for giving me my life back!


At the end of May, I was diagnosed with breast cancer by my doctor, after she read my ultrasound on a lump in my right breast. She did a pencil size biopsy in her office for the lab. The lab came back with "non-cancerous properties" --no cancer. She insisted on surgery on June 4th to remove the lump (size of a dime). Cancer is her field -- I think she knew I had cancer; but the lab messed up -- she could hardly tell me the lab that she works with daily made a big booboo. I told her I wanted a second opinion. I only have one body and I am very protective of it when it comes to a surgeon wanting to take a blade to it.


I believe wholeheartedly that I have many angels guiding me. On June 4th Debbie (friend of [Dr.] Ryn Revis) called me and told me about the Cansema Salve that Ryn had used on her cancer of a year ago. I told her the lab said I didn't have breast cancer. She said I had nothing to lose if I didn't have cancer, the salve wouldn't do anything. I went to her house and we put the Cansema Salve on the hole where my doctor took the biopsy. The next morning I called Debbie and told her I had a mark on my breast about the size of a dime and she said to put more Cansema Salve on the erupted area. Two days later I have a small insect-like bite on the left side of my neck. Debbie said to put Cansema Salve on it just because.


The next day I have a quarter size and a dime size sore on my breast and a quarter size and a dime size on my neck. I was frantic and called Debbie and she called Ryn. On June 11th Debbie and I saw Ryn and she verified that the "neck cancer" was probably the primary and breast cancer secondary. I had injured my neck (on that spot) about 15 years ago. I have been seeing specialist and chiropractors for several years for the left shoulder pain and the numbness in my left hand. My Western doctors would have probably NEVER found the neck cancer and had I had the surgery, I would be with no breast and possibly little or no lymph nodes. Ryn has me on the Cansema Tonic for the next two months and my eschar's (many) are just about to fall off.


I hope you can make sense of my story -- I am still so excited about finding the neck cancer, that I sometimes can't focus on my writing.


I can't say I am glad about having cancer -- however, I do have an even stronger spiritual life and I wake up every morning happy. It should be noted that I have never been a morning person before my big "C".


I love you all at Alpha Omega and thanks to my spiritual guides (angels) for leading me to you.


Love to Everyone,


[P.S.] -- Forgot to tell you -- my left shoulder has no more pain and my left hand is no longer numb.



P.J. (Pattie) MacDonald
Ontario, CA (USA)
pjmacblondie@yahoo.com
Sent via email: 6/16/2002
.


[Editor Comments:
There are several points of interest in this testimonial submission. First, is the frequency of misdiagnosis. All good doctors are well-meaning; no one deliberately intends to misdiagnosis the particulars of aberrant cell growth; nonetheless, the stories of misdiagnosis, quite unintentional, run through our offices like cold running water. People need to realize that cancer "sets up shop" while asymptomatic --- it cannot be detected. And then when it does become detectable (chemically, through antigen tests; or physically (on account of morphology); etc.) it can still quite readily go undetected.

This is Cansema's greatest contribution to the field of alternative medicine: it finds, detects, and kills aberrant cell growths which are quite happily building and growing while "under the radar" -- undetectable using the most modern diagnostic tools now available . . . .

A word about
pain management
is in order: unless you are under the care of CAM (complimentary and alternative medicine) physician; or a good naturopath, osteopath, chiropractor or other licensed health care professional, we do not advise the use of Cansema Salve in the treatment of breast cancer. Pattie's growth was small, so it apparently worked for her. But had her breast cancer been of a larger size, the use of Cansema Salve to remove it could have been excruciatingly painful. You can get good narcotic-grade analgesics (pain-killers) from a good physician -- a real "must" if you're going to tackle a sizeable growth.]
Case #061002: Cansema & Tongue Cancer
(Similar case with pictorials:
Kent Estes
)

Hi,


My name is Rose Evans and I have been meaning to write to you about the success I had removing a small growth on the end of my tongue. Here is my story.



Saturday 19 Jan 2002
2.15pm applied small amount of cansema to tongue growth. After half an hour nothing much happening, mild tingling, so applied more to cover whole growth. I kept the end of my tongue with the growth outside my mouth the whole time.
3.45pm started to burn a lot.
4.30pm surrounded by white. White spreading out towards back and to right half a cm. Slight swelling underneath. Fairly painful but tolerable.
5.30pm pain eased off a bit.
6.50pm pain increased for 10 mins and then eased off a bit again.
7.30pm pain increased a bit and stayed the same.
8.00pm drank water through a straw.
8.30pm drank Herbalife (nutritious drink) through a straw.
11.30pm called it a day. Put tongue back inside mouth. Black totally dried up, wouldn't come off so left it. Quite painful now that saliva was softening it up. As I am opposed to taking drugs of any kind,I handled the pain by receiving a Touch Assist from my husband (see www.scientologyhandbook.org/SH6_4.HTM) and then applied Paneze Cream to nose and tongue (available from Success Health Clinic, 1 Riverview Rise, Wilson, Western Australia 6107). This enabled me to sleep.
12 - 6am slept 6 hours (amazing considering pain), then applied Paneze Cream again and slept a further 3 hours.

Sunday 20 Jan 2002
Got up 9am. Quite painful on tongue and around eyes and ears. Growth hard with white all around it. Received another Touch Assist and felt much better. Drank water and Herbalife during the day.
4.30pm managed to swallow bread soaked in soya milk, by leaving growth outside mouth. Hard to talk.

Monday 21 Jan 2002
Slept well but felt washed out. Took day off work. Painful to eat, but managed soup. Growth had reduced a bit and become very hard. Lots of saliva generated (healing!).

Tuesday 22 Jan 2002
Slept well. Lacking energy but went to work. Talking slightly difficult but OK. White surround came away in the afternoon. Some surround still there - about 1mm all around.

Wednesday 23 Jan 2002
More energy today. Growth slowly coming away and I could see hole underneath.

Thursday 24 Jan 2002

Growth came out! It had taken 5 days from start to finish. Nice little hole left, which over time has healed over leaving virtually nothing to see.


Thank God for Cansema. I had been dreading having the growth surgically removed, possibly leaving bad cells behind and had been hoping for some miracle cream such as Cansema! I have also handled several suspicious spots on my skin and from the burning reaction they needed handling. I have now been going to a Naturopath/Homeopath to handle why I got these growths in the first place.


Thank you very much for your wonderful product. I hope you can use my success to inspire others with similar problems.



Rose Evans
evans_@hotmail.com
Sent via email: 6/10/02
.



Case #060902: Cansema & Kaposi Sarcoma


I just wanted to let you know that Cansema worked (quickly!) on a Kaposi Sarcoma lesion. I think your products and I are going to have a long and loving relationship. Thank You.


[Addendum letter emailed hours later}: I want to add that it took only three days from first application of Cansema to the removal of the KS. In its place there is healthy tissue.



"Roger"
rdt58@yahoo.com
Sent via email: 6/9/2002
.



Case #060502: Cansema & Non-Specific Skin Cancers (Australia)


My husband has worked in the hot QUEENSLAND sun for the past 22 years. The results to this have been over 100 sunspots on each arm; both hands were covered, the edges of his ears and numerous numbers on his face.


To remove these at a doctor's surgery would cost us thousands of dollars, not to mention my husband's good looks.


Then a lady told me about Cansema Salve. She gave me a sample to try it, and we could not believe the results. Well, I raced straight out and ordered a bottle for us, then got straight to work. We have removed about 80% from his arms -- his hands are finished and cancer free. We haven't started his face yet, but we will.


I am so impressed by this product . . .


I find it is easy to introduce people to this product. Everyone is interested. If only everyone knew about it I'm sure they would be using it. So i will keep spreading the word.


Cansema is the word ........



"Jacky"
Jacky@goldlink.aunz.com.au
Queensland, Australia
Sent via email: 6/5/2002
.



Case #051102: Cansema Salve, Prostate & Testicular Cancers


I ordered some of your black salve to see if it will work any better than mine. I again used black salve inside the rectum. This time I found that the left testicle had some redness and slight swelling. I felt nothing in the rectum that would indicate a problem in that area or in the prostrate. This indicates that the blood in that area is picking up the salve in the blood stream and working against cancer cells in the left testicle. A doctor in Mexico told me that using anything in this manner is much more affective that by mouth. Then why not use laetrile or cemo the same way. I will continue to advise you of my progress. (E.P.)



"E.P."
(Additional permissions not submitted)
Sent via email: 5/10/2002
.
(AO Response: Please do ...


BTW ... I got a letter from a man who reported that his PSA went from 5.2 down to 2.2 using Cansema Salve..... Salve? ..... I asked how he applied it to his prostate! He told me that he used the Cansema Salve OVER his prostate on his abdomen and it penetrated the skin and went into his bloodstream. The next day his left testicle blew up the size of a tangerine. To both of us that indicated testicular cancer.


This action is going to be even more pronounced with the DMSO (USP) / emu oil formulation we are introducing next week. [Editor: This product was introduced just days ago]


By the end of the year people may not NEED to use the internal versions of Cansema. We may make it ALL topical. (J.C.)

Referenced Prostate Cancer testimonial appears below...


I could not send you my testimonial off your web page , so here it is. I had a PSA report of 5.2 and refused to do the byop. I used BS [Cansema Black Salve] in the prostrate area. I got a very heavy reaction in my left testicle. I waited 4 days then applied BS to the left and right side... It was very painful for about 4 hours but it did go after the cancer. I used the BS 3 more times in the area and went back for another PSA. It was back to 2.2.... I then tried the BS in the colon and got a heavy reaction. Some bleeding and lots of puss. This only lasted 2 days and after 6 days I did it again with very little reaction. I would like to hear your input ...



[Editor's Note: This is a "case in progress" and we do not mean to convey that there has been a complete remission in this instance. But the inventive nature of Cansema use and the subsequent lab results in this case does provide useful application information to those of our end users and clinicians who prefer to take a topical approach to deeper cancer growths, avoiding the inherent limitations of systemic (orally delivered) vehicles.]
Case #051002: Cansema Salve & Non-Specific Cancer Tumors


Several months ago my son had a tumor appear quite suddenly at the top of his ear where the ear attaches to his head. As soon as he called it to my attention I made an appointment with the dermatologist (he was able to get in the next day) and it was removed with a diagnosis of cancer.


The doctor assured us that the surgery "had probably gotten it all" and wanted to see us in 6 months. Less than a month later there was another tumor starting in the same spot, obviously a fast growing and very aggressive cancer. After the visit to the dermatologist I had gone on-line to research "black salve," which I had heard about from several sources. I was blessed by finding your site and ordered the Cansema the day I reviewed your information.


When we realized the tumor was reappearing I applied the Cansema with all the results your site warned of. The burning and pain was minimal and the results were amazing. The process went exactly as expected and his wound is healing nicely. I also applied Cansema to a small place on my neck which I had been concerned with, I have no medical confirmation that it was cancerous but the results were exactly the same as my son experienced. We are both well on the way to being "tumor free."


Bless you for all that you're doing and we will definitely be ordering more of your products.



jodoinl@excite.com
Sent via email: 5/10/2002




Case #052102: Cansema Salve & Basal Cell Carcinoma (BCC)


After having surgery for basal cell carcinoma, I chose to use Cansema Salve instead of second surgery and made the first application on April 19, 2002.


There was a large eschar which formed adjacent to my collarbone near my neck, which stretched a distance forming two eschars. The largest was about the size of a quarter, and the smaller about the size of a dime. It burned severely at first, and then I developed another problem from lifting a heavy gallon jug of spring water during each meal preparation...


The largest eschar finally fell off on May 5, 2002 and the other a few days later. The photos were not good since my camera would not take close-ups, but I am sending one by mail. I put salve also on several nearby places which seemed to be involved, and these little eschars are gradually falling off.


I feel that this carcinoma was quite serious and extensive, and am grateful for your product, and am now ordering the Cansema Capsules and Bloodroot Paste. Thank you again, James Carr, for your attention to my plight, and especially for making these products available.



Geraldine Rasmussen
gdrasmussen2web@webtv.net
Sent via email: 5/21/2002




Case #042802: Cansema Salve & Skin Cancers


Both my wife and I have used your Cansema Salve successfully as well as over 30 friends we have in Florida and S. America. We are so thankful for your products and website!



William Miracle
wmiracle@cfl.rr.com
Edgewater, FL (USA)
Sent via email: 4/28/2002




Case #041602: Cansema Salve & Skin Cancer


Dear Sirs:


This is a testimonial. I'm 80 now; started playing golf in my teens and never wore a hat. About five years ago I developed a deep cancer of the lower lip. The plastic surgeon wanted to split the lip down to the chin "to make sure (we) got it all, because they go deep." I couldn't wait to get out of his office. Fortunately, I found a guy in Caspar, Wyoming, who had some herbs which I took daily for about five years. After about three years I complained that while they held the cancer in check, they never got rid of it. He said this was true, but "there is no cure."


Then my son, who is a volunteer fireman among other things, bought an ozonator supplied by the pure oxygen he had access to, and for a weekend applied it to the lip, which seemed to help. On the internet I found a large list of suppliers of ozonated olive oil. Since I am retired, have the time and interest, I read each one and when I came to #14 out of about 21, I yelled "Bingo!" because your ad said you had a cure for skin cancer. I was somewhat amazed that the federal agents didn't pounce on it, but then I read where it is made: in the Bahamas. I clicked on it, filled out (the order form) and sent in your application, and in about a week some young lady from Tennessee called and talked a long time. My son said she was checking me out. Eventually the Cansema arrived ...


I'm still in shock. All I did was apply a thin layer to my index finger, spread that on the small spot on my lip, and soon it burned like liquid fire, so much so that I had to go to bed. It's dynamite. After about three hours, it subsided, while my lip swelled up like a golfball. I wrote down the date and time of application: 2/28/2002, 10:00 o'clock in the morning. Exactly one month later my lip appeared to be completely cured. I remember the girl on the phone said if "all" I had was cancer of the lip this was guaranteed to take care of it.


You have my undying gratitude (I don't know how long that will be, but you still have it).


Sincerely yours,



Mrs. Wesley I. Nunn, Jr.
Springville, Calif. (USA)
Received via U.S. Postal Mail
April 16, 2002
(Response: We're not sure who would have made that "claim" here - because when speaking to citizens of the U.S., our people are trained never to use the "c" word or to make warrantees above and beyond our warranty. Nonetheless, we deeply appreciate your kind comments and the time you took to submit a testimonial by mail.)



Case #041202: Cansema Tonic III & Bladder Cancer


A friend of mine has been taking Cansema Tonic III with good results. He has a cancerous tumor on the bladder (and gall stones) and was experiencing bleeding which has now stopped. He originally lost 65 lbs. after having surgery three months ago to remove half of the tumor and has begun to gain weight again (15 lb.) with an increase in energy level.


Please let us know if you would recommend any other of your products to take in conjunction with the Cansema Tonic III for even better results. Thank you so much for your research.



nl*****@bellsouth.net
Sent via email: 4/12/2002

(Editor: We have received a number of letters that are close to this. Cansema Tonic III is not always as aggressive as Cansema Capsules or Cansema Tonic I -- but for many it is easier to take. Nobody likes taking a supplement or medication that doesn't taste good - as we all know. If someone is going to add something to Tonic III as a companion product, either Cansema Capsules or one of the CanSupport products is the best choice ... based on the resulting reports we have received back from the field.)




Case #040702: HerbVeil 8 (Cansema's predecessor)
& Skin Cancers (various)


Where can I purchase Cansema in Victoria, Australia? I have used HerbVeil 8 three times now. Works extremely well. Now I need some more. Many thanks in anticipation.



shenleyinoz@yahoo.co.nz
New Zealand
Sent via email: 4/7/2002

(Editor: This issue comes up from time to time, even though it is covered in the FAQ section. HerbVeil 8 was a predecessor to Cansema Salve - with both its name and exact formula created by an Alpha Omega Labs' herbalist, who was in partnership in the early 1990's with a businessman named Richard Ross. They created a company called Lenex Laboratories, which, we understand, was quietly dissolved after Mr. Ross passed on. There are no properties in the HerbVeil 8 product that are not in Cansema Salve).




Case #040502: Cansema Salve & Skin Cancer


I have been waiting on pins and needles for your reply and you are so prompt! No need to reply to this one. I am exceedingly grateful that you are available as you are. All over the internet your name is emblazoned with praise from other satisfied customers. An "iceberg" it was, indeed, and I will practice LOTS of patience waiting for the eschar to fall off and wait for the decavitation. Not looking forward to it, but here's to healing. I think I will continue to take the Cansema (Tonic) 3 for a few months after this goes away. Just in case there is anything systemic, as you say. I am, however, very intuitive about my body, and though I know there was something amiss with my chin and knee, I don't feel it is throughout my body - as much as I love the sun.



C. Varga
Sent via email: 4/4/2002




Case #040402: Cansema Black Topical Salve
Cancer, various (Diabetic patient)

This is to update you on my Mom's leg and our visit to the dermatologist on Tuesday. As you know we have dealt with this cancer on her lower left leg for many months. I finally got the cancer killed out only about three weeks ago as evidenced by the fact that it finally began to heal. The deep crater that had been there for so long began to fill in. Prior to that last application of black salve nothing we did caused healing to take place. By the time we got to the doctor on Tuesday it had almost filled in but still was oozing and still looked angry. He determined that it was now an ulcer and needed some more professional help and sent us to the ulcer clinic ...


Her leg is wrapped and the pain is essentially gone and there are no drugs involved in her healing process; just walking, elevation and compression.


Incidentally, I had the dermatologist check her nose where she had had a basal cell (carcinoma). We had treated it two or three times with the black salve. He could find no evidence of any more cancer; just some evidence of it having been there.



Glenda Powers
GAPower@aol.com
(Unrelated, previous testimonial by same user below)
Sent via email: 4/4/2002




Case # 040202: Cansema & Cancerous Moles


My father-in law purchased your Cansema salve, which he has used on several small skin cancers. It worked every time with no reoccurance.


I myself had a small cancer that was on my shoulder. I did not pay to much attention to it. My father in-law took a look at it and had me try it (Cansema). He told me that if it was cancer it would start to burn. About a half hour after the application, I could tell it was working.


I followed the instructions in the book and i'm very happy to let you know that it worked great. That one is gone; I have a couple of other spots that are in question, but I'm confident that your product will work.



James McCall
bigmac64@worldnet.att.net
Emmett, Idaho (USA)
Sent via email: 4/1/2002




Case # 031702: Cansema & BCC (Basal Cell Carcinoma)


[PREFACE: The following letter was received by AO Labs on 1/3/02, about two and a half months prior to receiving the relevant testimonial. The January letter read: "I live in England and am a licensed practitioner of Homeopathy. I have a patient with a basal cell carcinoma, which, although shrunken, has not been healed and (the physician) who took a biopsy now wishes to perform surgery for its removal. Definitely a case for the Cansema Salve! ... (the remainder of the letter dealt with getting quick delivery.... ) ]



Then ... two and a half months later: ....




Hi, you may remember being very helpful to me in England, with a patient with a basal cell carcinoma, so I bought Cansema from Jim Wright, and I thought you'd like feedback.


She put a little too much on, so that the dressing spread the salve to a larger area than was needed. Had she not put so much on, the scar would be tiny, however, she said it was very sore, but crusted up and took longer to fall away than in the brochure, which she had lost, but now she is so very pleased, because, although the scar is nearly an inch long, it is a long thin one, not a coin shaped one, and there has been no growth whatsoever in the 6 weeks since the cancerous cells came away!


I have strong hopes that the scar will lose the redness, so only a thin white strip will be left, (on her chest) and thank you so very, very much for the Salve. I will be in contact with you again, as I must finish now because the E mails don't get sent if I come off the Net, so I hope you get this!



Yours gratefully, Lucy,


Lucy Preston
prestonlucy@hotmail.com
(Both in U.K. & U.S.)
Sent via email: 3/17/2002


[AO Labs' Response]: Tell your patient that even the scar tissue that now remains will mostly go away. For some reason, some of the scarring can take the better part of a year to get rid of. Unless there is keloid tissue involved, we see most scar tissue go away after a period of several months, so that in the majority of cases it is actually difficult to tell that escharization, let alone a cancer, ever existed at the applied site. So inform your patient that her case is not over yet --- the healing is still in progress.




Case # 032002: Cansema Salve & BCC (Basal Cell Carcinoma)
(includes short Q&A with customer service)

During the period from 1990-1994 my dermatologist attempted to remove a skin lesion in the area of my left clavicle about midway between the neck and shoulder. Each time after the doctor scraped the area (to the tune of $200.00) the lesion would return. The lesion would react if I were in the sun by crusting over and the surface would crack with a bit of drainage. The lesion was slightly less than 1 (one) cm in diameter. Although I did not have a biopsy taken I was informed that it appeared to be a basal cell carcinoma. In 1996 I heard of your product and applied it to the spot. The Cansema reacted immediately and the area mushroomed to almost three-quarters inch in diameter. After about 2 weeks the eshcar fell off. The scar is almost invisible. Even though it has been over 5 years the area still itches occasionally. Is this normal? Should I reapply to the area? ....



[AO Labs Response]: You should probably reapply. BCC works like crab grass, and even if you have just one remnant cell left, years later that growth can come back. That's what probably happened here...



Also, is there a shelf life on the Cansema?



[AO Labs Response]: If there is one, it is very long... This is an FAQ question...
See: http://www.altcancer.net/faqcan.htm - (look for Question #224)



I just gave some to a friend the other day and it reacted with her spot and appears to be working fine.



[AO Labs Response]: I'm sure it is.



Unfortunately I did not take any pictures but am presently removing some spots from my face and have taken before and will take the after photographs. This is a great product and unlike mainstream medicine, IT WORKS!!!



Patrick McEwan
flyguy76@hotmail.com
Florida (USA)
Sent via email: 3/20/2002




Case #031102: Cansema & Non-specified Skin Cancer


[AO Labs: It is very rare of us to post something on one of our testimonials pages where the subject is experiencing "work in progress." Testimonials should be about closed-case situations, not operations in midstream. Nonetheless, Jason Eaton with The Colloidal Silver Database Website (which stands as a proponent to the healing powers of both colloidal silver and natural clay poultices) has done a superb photo history of his use of Cansema Salve. Currently, his "journal" runs from pre-application to early decavitation, but those who want their education in how the escharization process works to be upfront and personal -- well... have we got an eyeful for you! Latest update (12/11/02) now viewable.]
Case # 030402: Cansema / CanSupport & Breast Cancer


It's been so long since I've written that I included our correspondence in this e-mail in case you've forgotten. Just wanted to let you know that I did finally find a great doctor and, after two months on the Cansema products, went in for an extensive round of testing. My tests have come back clear!


Now I may never be able to prove to the world what I've been through and how your medicine saved my life---but I'll forever be clear about just what happened and who's responsible for my remaining on the planet.


THANK YOU THANK YOU THANK YOU!!!!!!!!!!


God bless and keep you always--your work is awesome!!!!!!!!!!!


Much love and endless thanks, Robin


R.P. Lieske
rplieske@emrcorp.com
Sent via email: 3/04/2002




Case # 022702: Cansema Salve & Seborrheic Keratosis


My dermatologist diagnosed a growth on my temple as seborrheic keratosis and told me nothing needed to be done for it. I took it upon myself to apply your Cansema Black Salve to the growth. The salve eliminated the growth as if it were cancerous. Is this unusual? Have you heard of anyone else having this kind of a result on seborrheic keratosis?


gtg57@juno.com
Sent via email: 2/27/2002
[Our Reply: "Our problem with Cansema Salve and either seborrheic OR actinic keratosis is that results are inconsistent: we get users who rave about what a wonderful job it did, and then we get people who tell us that it did nothing for their keratosis. Since users report that Cansema Salve works on skin cancers over 99% of the time, why dilute reports of its effectiveness by talking about things where it only takes care of the problem 50% of the time?


"I will post these comments on our site for the benefit of other people, but consider yourself lucky: Cansema Salve does NOT work on 100% of all keratosis cases. Of this much, we are certain. People who suffer from keratosis and use Cansema Salve for this purpose should know this in advance."]




Case # 022302: Cansema Salve & Skin Cancer


Hello. My name is Randy Martin. I was just reading the written testimonial of Brad Britz. And he was wondering who the MR. SURF CONTEST dude was?


Well it was ME!!


I have been using Cansema since 1996. I was at the Pier at Cocoa Beach that Easter with alot of pictures. Since then I have alot of video. I have removed over 30 more tumors since then; I now take Cansema capsules daily. And I also tell everyone I see about these products.


So be rest assured that MR. SURF CONTEST!!! I'm still around, still surfing, and still telling people about Cansema.. You can tell people all day long about Cansema and they will never believe you ... but pictures and video DON'T LIE.


Please tell Mr. Brad Britz he can contact me at mart1953@bellsouth.net.


Tell him I'm glad MR. SURF CONTEST A.K.A. Randy Martin could spread the word and help him. PEACE.


Randy Martin
mart1953@bellsouth.net
Florida (USA)
Sent via email: 2/23/2002


[Editor: Our reply was brief - "We really appreciate the testimonial. I will track Brad down and let me know ..."]




Case # 020102: Cansema Salve & Malignant Mole


I have had a large mole, at least as big as an pencil eraser, that protruded from the side of my face for as long as I can remember. Not only was I embarrassed by it, but it began to change color and the surface was changing as well. After reading Dr. Andrew Weil's book I tried a few plain bloodroot products and I was very unimpressed with the outcome, possibly just impatient, so I spent the extra money for the Cansema Salve.


I am very happy with the results of your product and I have recommended it to many. I believe in your Cansema so wholely that I would gladly be a distibutor for this product.


As a side note, I had a friend who had a similar mole on her face, but had it surgically removed while we were in high school, and needless to say it left a scar right there in the middle of her cheek. I hated my mole so much that a scar was a small sacrifice I was willing to make, but the thought of surgically removing the mole scared me.


I am pleased I waited and found this salve. Not only was it an easy process, but I did not find it to be very painful and there is hardly even a scar, dramatically less than if i had gotten it surgically removed. It has been gone for almost 3 years and you can barely see where it was, thank you so much!



Carrie Clark
BigMACnFam@aol.com
Oldsmar, Florida (USA)
Sent via email: 2/1/2002




Case # 020902: Cansema Salve & Skin Cancer


I have watched your wonderful product heal my brother's skin cancer, which was on the side of his nose. Medical doctors wanted to cut half of his face away and rebuild with plastic surgery.



Mrs. Etta Venable
nobodyschild@webtv.net
Sent via email: 2/9/2002




Case # 092401: Ovarian, Stage III & Cansema Tonic III
(Used in conjunction with conventional treatment)


I want to share with you the results one of my patients is having using Cansema for ovarian cancer. She is 45 years old and was having vague abdominal symptoms. A gyn check followed by an ultra-sound confirmed a suspicious mass. Surgery confirmed ovarian cancer, Stage III. She recovered okay from the surgery, went to MD Anderson in Houston for a consultation.


I told her about Cansema and the results others were having. She started on it that week. Three weeks later she started chemotherapy. After her second round her blood counts were so low that she could not take the third round. A CA125 blood test, which is a marker for following ovarian cancer after their surgery was is repeated came back in the normal range. What is unusual is that CA125 typically takes much longer to return to normal, at the end of chemotherapy. She is convinced it is the result of taking the Cansema.



Dr. Charles S., M.D.
Texas (USA) - Sent via email: 9/24/2001
Read and posted: 1/24/02



Case # 011302: Cansema Salve & Skin Cancer


I used your Cansema salve a few months ago on a basal cell cancer on my chin. I left it on for 24 hrs & then followed the instructions but it never entirely went away. I retreated the area last week but this time I left the salve on for an extra 12 hrs. It seems to have been totally successful this time, there was a core that came out & left a small hole that is now healing beautifully.


I'm very pleased with the results, especially since I had a doctor remove the cancer 2 and a half yrs. ago & it came back a yr. later . . .



Laurel Holt (USA)
Sent via email: 1/13/2001



Case # 010702: Cansema Salve
Numerous Applications Over Several Years


To Whom It May Concern:


I am sending you my testimony and praises for your Cansema cream. I have removed probably 10 cancerous moles on my face and neck over the last 5 years. The most significant one was on the area between my nose and upper lip. I had had an eraser size mole there since childhood and my father had the same kind, in the same place, for 70 yrs. Your Cansema cream removed them both with hardly any scar.


But the most amazing experience (was) just completed on Jan 3rd of this year.


I knew the day this cancer start(ed) growing because I got a sore spot on my head (under my hair) and I could feel the roots pulling into the middle of my head.


Since the only cancers I have taken off were on the surface, it never occurred to me to use Cansema on this one.


Finally, about a year after it started growing, the surface spot became so sore, I could hardly comb my hair, on that spot. So in June of 2000, I had my father put some Cansema on it.


Sure enough, the n next day it had "taken" (my word for the cream working). About 2 wks. later the scab came off, but I still had a sore spot, so I knew there was more.


I had my daughter apply Cansema on two more separate occasions. Each time it scabbed up, but the soreness was still there. Finally, about August, I had my daughter put a 4th application and she said she put it on thick. That night my head felt like it was on fire. I even got in the shower, with cool water, to get some relief.



I will try to draw pictures of how this progressed.


When I finally got a scab, it looked like a whirlpool.



(1) It was sunk in (the) middle. As it started to extract itself the scab started coming up in the middle, small at first;


(2) as the outside area got smaller the middle became larger,


(3) until it finally came off.


(4) It took 1 1/2 years to finally come off, but it is worth it


(5) knowing the roots are out, too.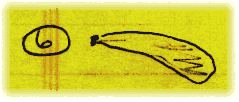 (6) Gray, black & bone colored.



Enclosed is the actual cancer that was pulled from my head.


I am so thankful for your product, because I have a son who had brain surgery 20 yrs ago. I didn't want to go that route.


My whole family has been helped by your product.


Even my friend had a black thumb-sized mole on his back. I told him about Cansema, they bought it and the mole was removed.


Please accept my thanks for whoever developed this cream.


Most of my moles came off in 2-3 wks. The one in my head took 1 1/2 yrs., but I will try any alternative to surgery.


Thank you so much and may God bless your work.



Yours Truly,
Cheryl Hays
(address omitted)
Parkersburg, WV 26104 - USA
Sent via postal mail: 1/7/2001





We deal with health care practitioners as well as end users from around the world. One of the more dedicated souls we have encountered is Mr. Jim Wright of the UK, a strong proponent of B-17 therapy. The Story of Phoebe Latham, which he composed, tells the amazing story of a terminally-ill child with one of the most deadliest of all cancers, particularly in small children: brainstem glioma. Despite attempts by orthodox medicine to hype their latest approaches and clinical trials, the fact remains that the 5-year survival rate is under 30%. Her recovery is an inspiration to all cancer sufferers.




Case # 112801: Cansema Salve: Non-Specific Skin Cancers


My mother purchased Cancema and used it to completely cure two of three skin cancer lesions on her face. For some reason she won't continue and destroy the last of the cancers. [ shrug ] I had an abnormal growth removed from my neck because doctors thought it looked suspicious, so they did surgery to remove it BEFORE trying to find out if it was cancer. After removal they found it wasn't cancer. I was not given any (medications) or whatever to reduce scaring and I now have a large scar on my neck that looks embarassingly like a hicky from a rather active night with a girl or something.


You guys are SOOO much better. With this stuff all I would have had to do was spread some salve on the weird-looking growth, and if nothing happened, I would know it wasn't cancer. And if it had been cancer, it would have totally destroyed it, which would have marked it as either normal dead tissue or an invading tissue and my body would have discarded it and attempted to heal. And thanks to your warnings and great instructions I would have been able to reduce the scaring a great deal ...



krepta3000@msn.com
Sent via email: 12/28/01




Case # 110601: Cansema Salve | Bloodroot Paste:
Cancerous & Non-Cancerous Growths


I'm a 53 year old RN and have always been very leery of conventional medicine after watching with suspicion many of the treatments performed by physicians I work with. Two years ago I order your Bloodroot Paste product after seeing a reference to it and your address on Dr. Weil's website. I used it just over night on two small benign looking growths on my face every night and both growths fell off in a short amount of time. (I applied the paste and covered them with a round bandaid.)


No scar was left.


My 30 year old daughter developed a growth on the side of her nose that grew rapidly over months and had no discoloration but detracted from her beauty. She used the paste for a very short time and only over night and the growth disappeared very rapidly and neither hers nor mine have reappeared.


A more stubborn growth on my forehead and under my chin didn't respond as well so I used the Cansema (Salve) and it worked within days to get rid of both of those too even though it's meant for cancerous growths and mine were certainly benign in appearance. It worked very well.



Katy Thorn
Spirit Lake, IA (USA)
thornk@rconnect.com
Sent via email: 11/6/01




Case # 110401: Cansema Salve & QuikHeal: Skin Cancers


Again, let me say how pleased I am with the results of the Cansema. What a difference from the Mohs surgery, which resulted in months of misery and a permanent scar. That scar has faded and is probably as good as it will get, but will always be a little noticeable. By contrast, the Cansema method leaves very little in the way of disfiguration.


I am amazed at how it worked. When I first got it, I tried it on my arm on a spot that was not cancerous. It did nothing at all. So at that point, I knew that either it only worked on cancers or it maybe didn't work at all. This has proved that it works on cancers but not other kinds of things.



(Name Withheld by Request)
Gresham, Oregon (USA)
Sent via email: 11/3/01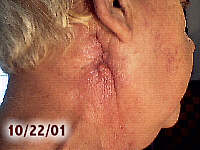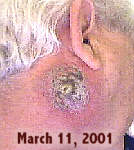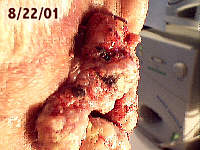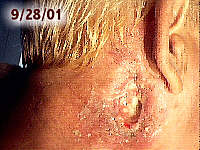 Case # 103101: Cansema Salve | Cansema Tonic III | H3O Concentrate
Used in Conjunction with Advanced Melanoma


"You guys saved my life ... "


[Editor: The amazing story of Mr. R. L. Banks is remarkable not only because it chronicals a recovery from the brink of death, involving one of cancer's most hideous, aggressive, metastasizing forms: melanoma - but it also involves one of the most meticulously photographed cases. Also, of important note are a number of additional discoveries about H3O's properties that were, hitherto, unknown, to either ourselves or our inventor. Going well beyond the scope of this testimonial page, we invite you to read the whole story.]




Case # 101501: Cansema Salve & Skin Cancers


About 18-19 months ago my husband, Stephen, (at my request) went to see his GP about a tiny lump on his neck which I had noticed for quite a long time and asked for a surgeon to check it out. Six weeks later we saw the surgeon who examined him and said that as the lump appeared to be smaller, he should not worry about it. The very fact that the GP said the lump (about the size of a small pea) was attached worried me.


I still thought that it did not seem right (even though the lump had got no bigger in the 18 months), so I persuaded Stephen this August to try the Cansema Black Salve which I put on the lump. It duly fell out leaving a clean wound which healed up nicely. The lump could not be felt anymore, but I was concerned his neck did not feel quite right and wanted to check if there was anything else there. As you can see... another lump is just about to fall out - I thank God the surgeon didn't want to operate as at that time - I knew nothing of Cansema Black Salve, although I have used a salve once when living in Australia (prescribed by a homoeopath) for a 'sun spot' on my leg. I only came to see your site on the internet because I was looking for something for a few skin cancers I had - treated successfully with your wonderful salve.



Anne (UK)
mypreciouspup@hotmail.com
Sent via email: 10/15/01




Case # 052901: Cansema Salve / Cansema Tonic III
Extensive & Large Skin Cancers - (Advise to fellow Australians)

Click on pics above to enlarge - See

other pics

Here (enclosed) are snaps of the worst cancers I have had, treated with Cansema Salve they have only left a small scar as evidence of the painful and freightening experience. To treat cancers as large as mine I would advise to have some clinic handy as the pain (can be) quite severe. Benzylpenicillin sprinkled over the area is beneficial, also Betnovate (TM) Cream, Betamethasone (as Valenate), .02 mg/g. It's very soothing to the nerve ends that cause itching and pain. Hydrogen peroxide, I have found, is very good as the area heals, cleans, and gives some relief. I have still a lot of cancer in my body. It has now appeared under my left eye, a difficult place to treat. I have been using the Cansema Tonic (III) to treat it, and once again, success! I found I could not use the Cansema Salve close to the eye so I tried the Tonic (and also the juice of the stinging nettle).


It was a big day in my life... when two caring (friends) advised me to use Cansema. I believe I only had a short time to live... It's good to be alive and to be able to tell others.



Bernard Godfrey
Coomba Park (NSW, Australia)
junessa@bigpond.com
Sent via email: 5/29/01




I ordered the Cansema on a $50 gamble! I wish I were as lucky at the casino's! I'd be a millionaire. I had a basal cell skin cancer removed in May, 2001 by a surgeon using Mohs surgery at the corner of my left ear. This dime sized spot ended up a silver dollar sized crater. I had another diagnosed basal cell skin cancer on my neck (left side). After searching the internet to see if there were less drastic methods of dealing with skin cancer, I found your web site. I will admit it seemed to good to be true, but after that surgery I was willing to gamble the $50. I am truly-truly amazed, it worked just as you described on your instruction web page! ... It is healing beautifully (cavity almost filled in and gone in less than three weeks). The surgery near my ear has left me with missing nerves at that location. The Cansema skin cancer removal site was virtually bloodless and there will be NO nerve damage!


Chris Coffey
Howell, Michigan (USA)
ccoffey@cac.net
Sent via email: 6/13/01




Case # 050201: Cansema Salve & QuikHeal: Skin Cancers


Cansema is great! It does the job for me exactly as you said it would! In fact -- beyond what you said -- on three occasions it has expelled cancers that were 1 to 1.5 inches away from the application.


QuikHeal (Blue) is another fine product. I'd say it cuts my healing time in half.



Fred Holtby
fholtby@lausd.k12.ca.us
Sent via email: 5/2/01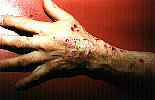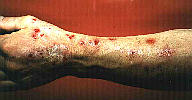 Case # 040401: Cansema Tonic III / H3O / Quikheal
Misapplied Unknown IV Infusion for Poisonous Spider Bite
(Australia)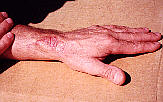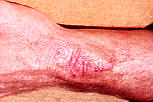 I am very impressed with the results of your products (Cansema, H3O and QuikHeal) you have sent me. [Editor: Photos above; click to see enlargement.] My severe skin condition, which resulted from a IV infusion of an unknown origin by my physicians, has debilitated me for years. My hand and left forearm refused to heal up ... Upon receiving your products, I used the Cansema (Tonic III) product orally, and put drops on my arm topically, and as you instructed, I did the same with the H3O ... When the healing process started, I also used the QuikHeal. Nothing (prior to this) has ever helped.


Your products are truly remarkable.


Robert Craig
rcraig@blaze.net.au
March 22, 2001




Case # 040301: Cansema Black Salve / Tonic III
Focal Superficial Squamous Cell Carcinoma

Thanks to Black Salve on November 3, 2000, I discovered that I had skin cancer on my jawline. Continued use along the jawline painted an increasingly alarming picture. The cancer had spread to the left ear canal, around the chin toward the other ear and throughout my neck! I applied the Black Salve on two different occasions over most of my neck and, needless to say, I went through complete agony and the entire neck reacted to the salve. The third application to my neck was to a small tumor that surfaced on the front of my neck, about one inch under my chin. I painted a circle about the size of a 50 cent piece with the salve...


By February 9, 2001, I had lost all of my ability to taste. Ever since Christmas Day I had been on the Tonic. The first 24 hours after taking the Black Tonic produced incredible results to countless nodules that had appeared on the surface of my neck, however, after that I could not tell any real positive results from taking the Black Tonic, but I continued, as awful as it was. In the meantime I had developed a cancer itch. I scratched and scratched but it never went away.


Checking back to your web site frequently, I discovered a new product called Cansema Tonic III containing Graviola. I immediately ordered it and took the first two doses on February 27, 2001.


By the fifth day, March 3, 2001, the cancer itch was gone. On the sixth day, I could taste the sweetness in an apple and banana. By day 12 I had 90% of my taste return!


On March 14, 2001 I went in for a punch biopsy (because I had never had the cancer specifically identified). Two hours later the cancer had been removed (including the large eschar). It was 4.6 x 1.7 cm and approximately 1.5 inches deep in my neck. Diagnosis: Focal superficial squamous cell carcinoma.


Had I not used the Black Salve to "test," I never would have known about this tumor until it was large enough to feel and see. My alternative medical doctor had checked my neck on two different occasions and had not felt anything. With the Black Salve, and much misery, I was able to pinpoint the spot where the tumor was growing in my neck.


I am totally impressed with the Graviola product you now produce and sell. Both doctors agreed that it was shrinking the tumor quickly.


I tell as many people about your web site as will listen. Your products have saved my life, I am convinced.


Thanks so much!


Glenda Power
GAPower@aol.com
April 3, 2001

Editor: We recently heard from Glenda again (email: 11/4/01) who added this in commenting about others in her family who have used Cansema: " ... I am so pleased with your products and the wonderful support given by you. My whole family has cancer of one kind or another and we all use the Cansema line with good results." Concerning a "mixed solution" of H3O and HRx she comments: "... Just want to tell you how well the acid water/alkaline water worked on the remaining cancer in my neck and it worked quickly, too. Thanks so much for your help regarding that matter."



Update (01/07/01):First of all, an update on my neck. Just before Christmas I had two head and neck examinations by two different specialists and neither could find any evidence of cancer. Your death knell protocol really did work! Secondly, I would like to give you a short report on my Dad who, two years ago, had a squamous cell cancer on his left ear. He made repeated visits to the VA Hospital for nitrous oxide, to no avail. Finally they scheduled him for surgery to remove a large portion of his ear. In the meantime I met an elder alternative physician who spent several hours with me and my husband while we were on vacation. I asked him what I could do for my Dad's cancer and he told me to use black salve. That is when I found Alpha Omega website, ordered the product and got started treating his ear.


Today his ear is cancer free where it was once covered from top to bottom and front and back with cancer. He has a small hole in the top where the cancer had eaten through but he still has his ear in tact.


Incidentally, my Dad went in for his scheduled surgical appointment, they prepped him and when the surgeon came in to start the procedure he could not find the cancer! He had a "sidebar" discussion with his staff and dismissed my Dad and sent him home. He has not been back to the VA since and he is cancer free, too.





Case # 032401: Cansema & Skin Cancer

I had a mole on my nose that I was about to get "scraped" off by a dermatologist. I was working with him occasionally, and he was just going to help me with it one evening. He said that he would biopsy it to make sure that it was not a problem, but he did not feel that it was a dangerous mole.


I knew that he would want to "slice & dice" my nose if it came back with any bad cells at all, so before I was going to let him do this, I thought that I would just cover the bases and know before I had this procedure done, that it was not bad. So, I applied the Cancema salve that I had purchased from you 1-2 years ago.


Well, much to my surprise, the mole was pretty bad! Within 15 minutes of having applied the salve, I knew that it was going to be a real mess.


To make a pretty long story short, I have over 125 photos of my ordeal. The mole is gone, my skin could not look healthier, and I am certain in my mind that it is healthy...


Thank you for having such a great product!



Judy Adams, Electrologist
St. Augustine Beach, FL (USA)
adams@aug.com
March 24, 2001



Case # 032201: Cansema | Skin Cancer & Actinic Keratosis

I am 40 years old, an avid outdoors person, have blond hair, fair skin and a family history of different types and stages of "skin cancer."


My mother and father-in-law heard of Cansema from a nurse while on a visit to the hospital. They, too, have a history of sun-related skin disorders. Each tried your "Black Salve" with nothing less than miraculous results. I now have personal proof of their testament as I watched a pea sized, dry brown patch, one inch from my right eye disappear as I send this letter.


I am overwhelmed with joy! I plan to take precautions with regard to the sun in all of my outdoor activities, but feel that I now have a self defense plan that I intend to share with everone that will take the time to listen. We feel that the Holy Spirit truly directed the development of Cansema, and all have high praises to Alpha Omega labs! See you outdoors!



J. Mark Andrews & Family
Louisiana (USA)
woodskin4ever@aol.com
March 22, 2001

[Editor's Comments: Many of these "dry brown patches" are, in fact, keratosis. Only a qualified diagnosis by a health care professional would allow one to know for sure. It is important to note that Cansema does not work on ALL cases of keratosis - though a great number report fabulous results. Positive reports on skin cancer, by comparison, exceed 99%.]



My wife was diagnosed with terminal small cell cancer (by Mayo Clinic) last June and given "months" to live. We began a vegeterian diet, no dairy products, no sugars, no caffeine, etc. In six months her disease did not progress as predicted. I used your Cansema ointment on skin cancers with fabulous results. When we realize you made an internal Cansema, we ordered both the capsules and the tonic. She bagan taking it on Feb 9, 2001. A sonogram last week showed that three spots on her liver have now disappeared. One bad spot on her kidney has become just a benign cyst and is smaller. It appears your Cansema is doing the job...


We have told numerous people about your products, and many have ordered from you. Your have made miracles in our lives, and we will be forever grateful...



Jim Newman (one very happy customer)
Port Isabel, TX (USA)
jnewmandraft@aol.com
March 19, 2001




To whom it may concern,


When I was 12 or so (31 now), I had a neighbor who had to have something removed from her arm. What it was or how she got it were not that important to me at the time. I just remember the long row of stitches and later the scar. For a few months after she would wince when someone would cause the slightest breeze around her arm. That was my only experience with cancer until a month or so ago.


I had a mole on the back of my shoulder that started to get my attention. At first it was just a little tender, carrying a box and opening a door or something with my shoulder, and it would feel like a bruise that I had bumped or something. Then it began to look like a place where there was an ingrown hair: red and it started to swell a bit. Big tough guy that I like to think I am, I tried to ignore it. It then got to where I couldn't sleep on that side of my body because of the tenderness of it. I showed a buddy and he said I should go to the doctor immediately. Now any normal person would, and I do realize you recommend it, but a guy who can count the number of times he has been to the doctor on one hand wouldn't. First of all, I could not afford to pay. I have an ok job and a half decent house but that's it and no health insurance. I would need my parents help with the bill. Secondly, and arguably more important, I could not let dear ol' mom know I had a tattoo which was within 3 inches of the mole. She would keel over instantly and I would rather she leave this earth happily.


So I was stuck not knowing what to do. The pain was getting to the point where if I stretched to reach something my shirt would apply pressure and it would bother me. I mentioned it to a friend who used to work at a hospital and asked him about the procedure for cutting it out -- what I was in store for if I could scrape up the money. He mentioned Cansema. He told me he was at a surf contest in Cocoa Beach where some guy was showing pictures of his head before and after Cansema. The guy had a bunch of pictures "that didn't look doctored". I thought it was a scam but he said we might as well try it since he had something on his hand that bothered him [as well]. Couldn't hurt, I guess. So he ordered and it showed up on (a) Friday.


I work in Melbourne (Florida) with him and stay at his place during the week, but have a house/girlfriend in Orlando where I stay on the weekends. So we decided that Monday would be the test day. Monday after work he put Cansema on his hand and covered it with saran wrap and went to bed. I took a shower and put it on my shoulder covering the mole and the place around it that was tender and raised up. I did other bathroom stuff like shave, brush my teeth, etc... and half way through shaving I started to notice it was tingling a tiny bit. I couldn't really tell if it was just having something on there or what though. So I covered it and went to bed, trying to stay off of it. I woke many times during the night from the stinging. It was not a "hurting" pain, but more of an annoying one (kind of like getting a tattoo). After about 15 hours I wiped it off and could see a tiny dark patch in the center. I thought it was just that the mole had gotten darker and hadn't really done anything. The swollen area was still like the diameter of a baseball but raised only like an 1/8th of an inch and in the center was a tiny little thing. I thought it didn't do anything since I still had this knot on my arm. I covered it up for a week changing the bandage when I showered at night and when I woke up in the morning. Throughout the week it seemed to be getting a little smaller when I would wake up and feel the area, but always seemed bigger as the day went on.


On Saturday morning (t-plus 6 days) that little black/brown spot came off with the bandage. The swelling decreased by like 2/3rds almost immediately. By that night it was back to being almost like a zit or ingrown hair. It left a spot on my arm like I had a scrape or something. It "leaked" a lot for the next week, especially after hot showers, and I just cleaned and changed bandages as the spot on my arm got smaller and smaller.


Now at more than three weeks after the first night it is barely the size of a pimple and has almost completely healed over. I wear a tiny bandage during the day just to spare my white shirts but probably do not need to seeing as the bandaid is always as white as when I put it on.


It is basically gone.


I do not have a big scar from stitches and I am not fearful of anyone bumping my arm as was my neighbor way back when. It is still slightly tender but I can sleep on it and hold doors open, etc...


I want to thank you so much for such a wonderful product. I still am amazed by what happened. I have told everyone who will listen about it. I especially want to thank that guy who showed pictures of his head at the surf contest in Cocoa Beach (probably around Easter time). If he worked for you guys thank him for me. I know that now I, too, would tell people about it, so he may just have been a happy customer like myself. Either way, thank you so much and thanks to Mr. Surf Contest again.


Peace,


Brad Britz
Orlando, Florida (USA)
March 19, 2001

[Editor's note: We don't know who "Mr. Surf Content" is -- most probably another Cansema customer or user. But we will be sure to thank him for you, Brad, if our paths come to pass...]



Case # 031701: Cansema Salve | Cansema Tonic III
Terminal Cancer | Skin Cancer


My name is Jim Wright. I have been supplying Betsy & Nick Bragger with B-17. I have also purchased products from Alpha Omega to sell from my web site. I am very interested in Cansema Tonic III which seems to have done the trick for Nick Bragger. [Editor: Nick had Stage 4 terminal cancer; in fact, the hospice had been coming to his home every two weeks with three units of blood prior to his use of Cansema.]


I just spoke to Betsy on the phone and she tells me he is a new man. I am doing my best to help people who cannot get help from traditional medicine. The Cansema Salve has cured my mother-in-law from skin cancer on her face. She is 85 this year...



Jim Wright (UK)
www.goodbye2cancer.co.uk
ynoddfa@btinternet.com
March 17, 2001




Case # 031201: Cansema Salve & Actinic Keratosis

I am in Australia (the skin cancer capital) and my wife and I have successfully used Cansema on 3 solar keratosis' in the past year. We have reached the stage now where we no longer bother to get checked out by our GP (I have told him so) but we simply apply Cansema. If nothing is wrong, nothing happens. If something is wrong, the Cansema fixes it. Simple.


Congratulations on this product. I have recommended it to more than a few friends. All of my relatives use it.


David Fox
Australia (sent via email) usdr@optushome.com.au
March 7, 2001



Case # 030201: Cansema Salve & Cancer of the Gum

(March 2, 2001): The Cansema arrived last Friday, (so) I put a very small amount directly in the center of the tumor. The tumor as I mentioned before is fairly small, I fashioned a device to hold my mouth open to get a dry application. I left the Cansema on for about 2 1/2 hours; by that time, it was obvious it had done it's work -- it had spread to the edges or the margin of the tumor but did not go on into the healthy tissue. The healthy gum tissue was left untouched. By Wednesday night the whole tumor was loosening and falling down. I carefully took a pair of surgical scissors and cut the dead connective issue that held it, as it was falling down over my front teeth. Underneath the tissue looks healthy I thought for sure I would have to do numerous applications but it doesn't look like that will be necessary. If there are any abnormal cells, they are very small... Needless to say, I am absolutely thrilled with this product. I thank our loving heavenly Father for leading me to your company and this product. Thank you again very much I can't thank you enough ....


(March 3, 2001): Thank you so much for your email you most certainly may use our testimonial. My husband and I are so amazed at the results of this product of this simple product made from herbs and so many people are having body parts remove needlessly. Yes, please continue to get the word out. I have an appointment (with) my periodontist a week from this Tuesday. I know she's is going to be very surprised that there's no tumor to biopsy. She was urging me to have it biopsied as soon as possible, but as I discussed with you, the expenses are great with no health insurance. Thank you again. Keep up the good work, and God bless you.



Abigail Davis
U.S. (sent via email)
March 2 & 3, 2001






Top of Page | Cansema Salve | Cansema Capsules | Cansema Tonic III
Home Page | Order Form