Cansema ® & Related Products --- 2020 (Human)

Submit Your Own Testimonial
Coronavirus News & Updates
Older Testimonials
:
---
2019

2018

2017

2016

2015

2014

2011-2013
2007-2009

2003
to FDA Raid (9/17/03)

2001-2002

1995-2000
Video Testimonials

Veterinary Testimonials

Bloodroot Paste Testimonials

Read the
astonishing 500+ year history of the suppression of Cansema®
and its cancer-curing predecessors
in Chapters 1 and 2 of
Meditopia®
.
'The Impossible Mandate Principles': New Corollaries of Parkinson's Law:
Why the Orthodox Community is Hellbent on Suppressing Cansema® & Similar Effective Solutions


The testimonials below are just a few that have been collected on the effectiveness of
Cansema
®
(both black topical salve and our internal version - Amazon Tonic III), which carry both human and veterinary applications. See also animal use)
and related products. The testimonials on this page are a small sampling of those received by
Alpha Omega Labs
so far in 2020. See links above for testimonials submitted in prior years.

As always, we have made no attempt to alter any of the language (syntax, punctuation, spelling, etc.) of these written letters and/or email missives, excepting minor spelling errors. Thousands of other individuals have been helped who did not take the time to sit down and write letters or send email. You may contact these individuals directly, if you wish, where contact information is provided.

Some portions of this page have little graphics, but are text heavy. We have a
pictorial testimony
page, if you want a more visual representation of how
Cansema
® works.

Disclaimer:
The purpose of these testimonials is to provide you with an insight as to what other
Alpha Omega
users have reported, and to provide a foundation for the legitimacy of our research and overall work. No responsible maker of herbal products, Alpha Omega included, would infer that testimonial inputs carry the same weight as well-constructed clinical studies.
To U.S. Users:
None of the Alpha Omega Labs' products mentioned in these pages have been evaluated by the U.S. Food & Drug Administration. Therefore, they are not intended to diagnose, treat, cure, or prevent any disease in your country ---- even if that is the manner in which they are used in virtually every other country on earth.
Because of time constraints caused by the "PLANdemic," we are currently behind
in posting testimonial materials. We hope to be caught up by May 31, 2020.
Case #031820: Cansema® Cancer tumors



Cathryn, I am sending you a timeline history of my husband's two tumors. I think that the photos [see above] will be a great illustration of the process and they DRAMATICALLY speak to the truth.

I hope that you and Greg are staying well. I am truly amazed at the stupidity of the majority of the planet right now. It is so sad that we can't trust the people who were supposed to be looking out for our collective interests. After all, there truly is "enough" for all of us. The greed and the power mongers are just devoid of souls, I guess.

Lucky for us that there are ANGELS like you and Greg on the planet.

(name withheld by request)

Florida (USA)

Rec'd : April 2, 2020
Case #040220: AO Herbal Toothpaste & Oral Abcess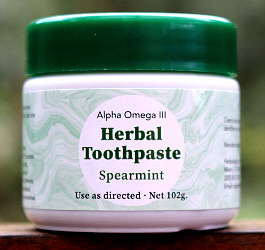 [Editor's note: We only call it a toothpaste because if we used any other word for it, people might not know what it is. But the truth is that AO III Herbal Toothpaste is a mild escharotic and has many of the same properties that Cansema® does. It doesn't just clean the teeth and get rid of calculus buildup, it kills the pathogens that can cause innumerable problems in the month. Abscesses is just one of them.]

A very good friend came to my home last week. He had developed an abscess in his mouth and was in a lot of pain. The worst part was that this was during the early stages of the "lockdown" in Florida, due to the Corona Virus (March 2020), and there were no dentists open anywhere, for at least another few days. He was miserable.

I had just begun using your Alpha Omega Herbal Toothpaste, thought it might help and offered him about a teaspoon in a clean jar, so he could try it at home -- later on.

The next day I got a call from my friend, who told me that he used the toothpaste three times in twenty four hours, and the abscess was totally HEALED and GONE and he cancelled his dentist appointment, and immediately ordered a few jars of his own toothpaste (from you).

Thank you for making so many people healthy and well! I am truly amazed at how incredible all your products work! I can't wait to try many more!

(name withheld by request)

Rec'd : April 2, 2020

[Editor's note: Like the testimonial which follows, mention is made not only of Cansema (black salve), but also of MMS (sodium chloride, which is used by end users to make their own chlorine dioxide). We have a similar product, which we've sold since 2008, called AO Chlorite. We also sell chlorine dioxide in stabilized solution -- see Biodox. The comment about the effects against CoVid-19 are well-established, as I reported on March 25. Doctors in Berlin are reporting fabulous success using ClO2 to read CoVid -- although there are other vital micronutrients one should be taken if one does acquire this 5G-induced illness.]

Your black salve product [Cansema] is great. It worked fast on my mother's skin cancer. She also took chlorine dioxide to kill all internal pathogens (per NASA engineer, Jim Humble). I have no connection with Jim Humble except that I used his protocol of chlorine dioxide, the most popular water purifier, to cure my very bad case of Lyme disease about 5 years ago. He reports many people are using this to kill the corona virus successfully and very fast. You might like to share this with your readers.

Thank you. God Bless.

(name withheld)

Rec'd : April 5, 2020
Case #051320: Cansema® & BCC's



I want to thank you for continuing to fight the good fight. I have removed numerous BCC's with your Black Salve over the years. Cheers.

(name withheld)

Queensland, Australia

Rec'd : May 13, 2020
Case #051420: Cansema® & Melanoma (Hand)



[Editor's note: This testimonial comes with a VERY extensive pictorial showing the entire process in chronological order. We have seen cases like this where the patient's physician recommended the complete removal of the hand. In this case, the cancer was removed, five years have passed, and you can't tell there was a cancer there in the first place.]

Please find PDF attached
. I scratched my hand with a rose thorn, so I waited until it healed before taking the 5 year photo. I did up the commentary because there was so little on YouTube, though it's not published as yet.

Let me know what you think and if you'd prefer some edits say so. It would be good to help others.

(name withheld)

Rec'd : May 14, 2020